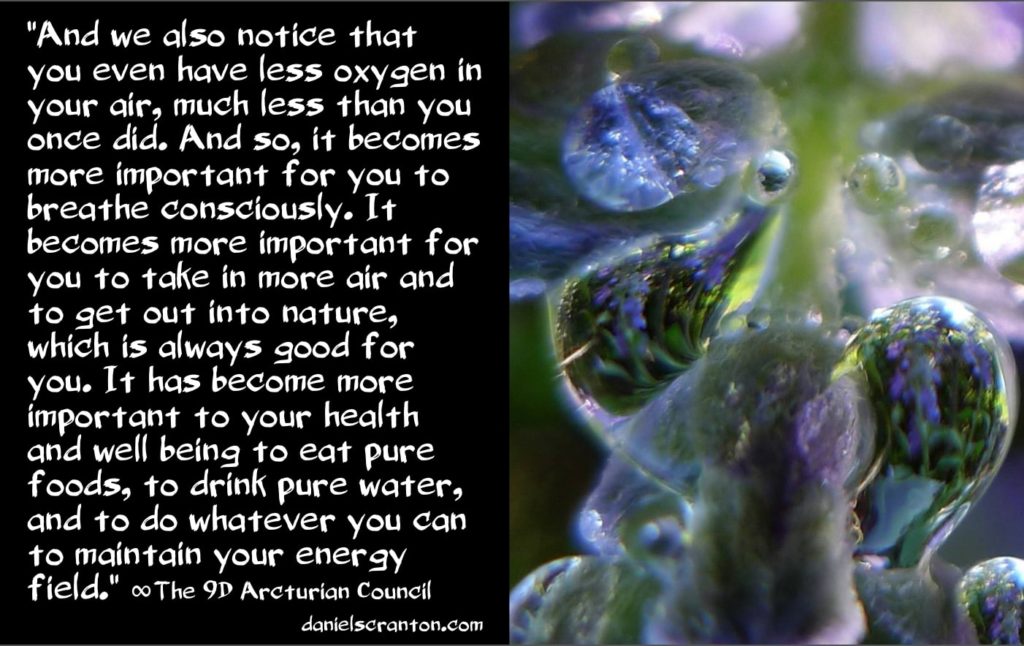 Protecting Yourselves from 5G ∞The 9D Arcturian Council
"Greetings. We are the Arcturian Council. We are pleased to connect with all of you.
You are living in a world that is giving you more and more reasons to keep your vibration high. If you can keep your vibration high in the world that you are living in, then all of the toxins will have a very limited effect on you. We are talking about the air pollution, the water pollution, the food pollution, and also the EMF pollution that you are currently enduring there on Earth. It is becoming more and more important that you take care of yourselves physically and spiritually, as well as emotionally, because of how many more detrimental toxic elements you have around.
And we also notice that you even have less oxygen in your air, much less than you once did. And so, it becomes more important for you to breathe consciously. It becomes more important for you to take in more air and to get out into nature, which is always good for you. It has become more important to your health and well being to eat pure foods, to drink pure water, and to do whatever you can to maintain your energy field.
As some of you know, there is this new technology that is being rolled out, and it is called 5G. Many of you are concerned about it, because of the studies that have shown the detrimental effects of being exposed to that particular EMF. So what are you to do? There are certain actions that you can take on the physical level, like getting some orgonite, lining your walls with lead, moving out into the country, where there are less of these transmitters around. And of course, you can shut off your Wi-Fi and your cell phones when you are not using them, and you can also use them less.
So, in addition to all of the steps that we have just outlined, you also have to find a way to keep your vibration high. You cannot just take care of yourselves physically. You have to process your emotions, especially the ones that come up when you realize that these gigantic corporations are going to be harming people. There is also even talk that this level of technology could be used for mind control, and again, you have to process your emotions about that. You cannot just fight the power.
First, you have to acknowledge what it is doing to you, what you can do about it, and then, by raising your vibration, you make yourselves less susceptible to the technologies that will continue to be rolled out to humanity. It is a good time to make that important decision about who you want to be. Do you want to be mind-controllable, or do you want to be openhearted, grounded, and connecting with Mother Earth and Mother Nature? These are the choices in front of you.
We are the Arcturian Council, and we have enjoyed connecting with you."
Get a Private Session with The Arcturian Council (or any of the other beings I channel) for 50% Off. Enter Discount Code LOVE at Checkout
Purchase The Arcturian Council's book, Ascension: The Shift to the Fifth Dimension, on amazon here
Watch the Video Here – I'm in It!
Love these quotes? Make a donation here