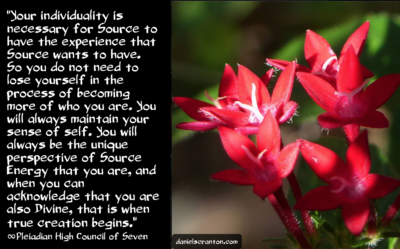 Source as an Individual ∞The Pleiadian High Council of Seven, Channeled by Daniel Scranton
"We are the Pleiadian High Council of Seven, and we are pleased to offer you our words of wisdom.
Stepping into your power as an individual means that you are stepping into your power as an individuated aspect of Source Energy. You are not separate from Source or from any other being in all of creation, but you are special and you are unique. And as such, you have a right to be an individual. You have a right to your own desires, and you have a right to create whatever experience you want to create for yourself.
Now, as you ascend, what you want to create for yourself will evolve with you. You will become less separate as an individual, but you will maintain your individuality. And you will also be able to decide for yourself what is right for you, what is true for you, and what your ideal version of reality is. Stepping into your power means acknowledging that you are Divine, but it does not mean that you must relinquish your individuality as a conscious creator being.
Your individuality is necessary for Source to have the experience that Source wants to have. So you do not need to lose yourself in the process of becoming more of who you are. You will always maintain your sense of self. You will always be the unique perspective of Source Energy that you are, and when you can acknowledge that you are also Divine, that is when true creation begins.
You are not beneath or below anyone or anything, and neither is anyone else. You can be sovereign and Divine and still respect the sovereignty of others. In fact, if you are to acknowledge your true Divine self, then you would have to include all others in that concept of self as well, because Source is all beings. So to truly know yourself as Source, you must be willing to acknowledge that all other beings are included in who and what you are.
And that is even more empowering, because then you recognize that no one is outside of you and no one is working against you. It just appears that way from time to time, but that illusion is always meant to bring you back to the truth of your sovereignty, your Divinity, and your power as an individuated consciousness, born from All That Is, from Source.
We are the Pleiadian High Council of Seven, and we are very fond of all of you. That is all."
Bonus transmission from Archangel Ariel, Channeled by Maricris Dominique Dela Cruz
Get Some Clarity – Book a Private Session
Show Your Gratitude – Make a Donation