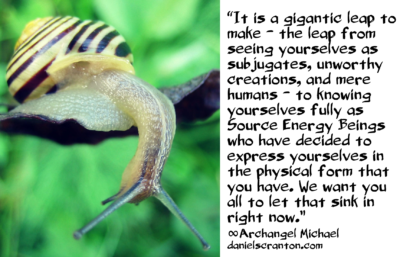 "Welcome. We are here to serve and assist you.
Because you have given yourselves the experience of not knowing who you really are, the full knowing is going to take some time to sink in. You all intended to incarnate into this reality and to not know who you really are. And now that you have been told by many teachers, you are allowing it to sink in, little by little.
It is a gigantic leap to make – the leap from seeing yourselves as subjugates, unworthy creations, and mere humans – to knowing yourselves fully as Source Energy Beings who have decided to express yourselves in the physical form that you have. We want you all to let that sink in right now.
You do not need to become anything other than what you are right now in order to know yourselves as Source Energy Beings. This experience that you have created has given you the opportunity to know yourselves in many different ways, and you have done a wonderful job of playing all of your different roles. Now you are at the time where your greatest role to date is upon you.
Being in a human body and allowing yourselves to recognize your Divinity and to act accordingly is the greatest experience you can possibly have. So you see, there is only choice remaining. Do you want to make the choice to see yourselves as mere humans who are unworthy of the kingdom of heaven, or do you want to see yourselves as the embodiment of heaven on Earth? The choice is yours and the choosing happens now.
We are Michael. We are infinite. We are Love."
Get Some Clarity – Book a Private Session
Show Your Gratitude – Make a Donation