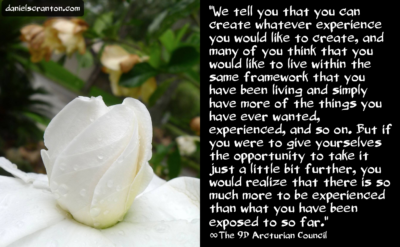 "We tell you that you can create whatever experience you would like to create, and many of you think that you would like to live within the same framework that you have been living and simply have more of the things you have ever wanted, experienced, and so on. But if you were to give yourselves the opportunity to take it just a little bit further, you would realize that there is so much more to be experienced than what you have been exposed to so far in your lives.
So that is why it is necessary for you to let go of any attachment that you have to the ideas of the perfect life that you may have dreamt of. Because in order to access what is beyond what you have experienced, you must let go of the attachments that you have to the physical, to the world that you know so that you can open up to a much bigger world, a much broader experience than you have ever had.
You will find that it is so much more satisfying to let the details of your life be a surprise to you. It is much more fun when you do not know what your presents will be. That is why you have the wrapping paper and the box, so that you can have the experience of opening your gifts.
So please do decide what your new world will feel like to you, and erase from your mind any ideas of what it might look like, who might be there, what you will be doing. Because all of those trappings are just that. They can only limit you in the same way that your minds have limited you from the truth of who it is you really are, how it is you really operate in this world, and what it is you are capable of becoming."
Get a Private Session with The Arcturian Council (or any of the other beings I channel) for 50% Off. Enter Discount Code LOVE at Checkout: https://danielscranton.com/session
Love these quotes? Make a donation here