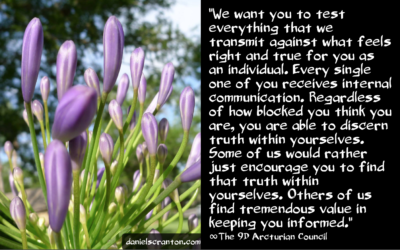 "Greetings. We are the Arcturian Council. We are pleased to connect with all of you.
We are in the process of deliberation. We are deliberating amongst ourselves because we still have a variety of perspectives, even though we operate as a collective unit. Our deliberation is on the effectiveness of telling you something, rather than asking you to discover within yourselves what is true. We know that you like hearing from us, but we do not want to supersede your own wisdom, you own guidance.
We want you to test everything that we transmit against what feels right and true for you as an individual. Every single one of you receives internal communication. Regardless of how blocked you think you are, you are able to discern truth within yourselves. Some of us would rather just encourage you to find that truth within yourselves. Others of us find tremendous value in keeping you informed.
For example, there is a root chakra cleansing that is going on right now throughout all of humanity, and knowing that information could help you to make sense of symptoms that you are experiencing, fears that are coming up, memories of deaths from past lives, and so on, and knowing that can set your mind and your emotions at ease.
But if you're not having any sort of experience of a root chakra cleanse, then it is more important for you to make your own conclusions about what's going on inside of you, about what's most pertinent to your now moment. And so, with every transmission that you receive from us, we want you to also check in and see what transmission you have for yourself.
We are the Arcturian Council, and we have enjoyed connecting with you."
Get a Private Session with The Arcturian Council (or any of the other beings I channel) for 50% Off. Enter Discount Code LOVE at Checkout
Get Two Private Sessions with Maricris Dominique Dela Cruz-Scranton for 67% Off
Love these quotes? Make a donation here