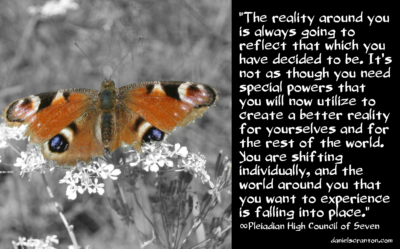 "We are the Pleiadian High Council of Seven, and we are pleased to offer you our words of wisdom.
It is a fine opportunity that you all have in this particular moment of your shift to greet yourselves in the mirror as brand new beings. You are not who you were just a few months ago. You have done a tremendous amount of shifting in that timeframe. This is a new era that you find yourselves in. This is very much an age of enlightenment, freedom, and renewal.
So as you access yourselves in the beginning of each day and you recognize yourselves by your energetic signature, know that you are able to create whatever version of yourself that you want to create. You most certainly have the freedom to leave the past behind. You have the ability to start fresh in every day, and certainly within every moment of every day you can make that choice as well.
This is not just a clever platitude that we are giving you. It is a fact. It is a function of how quickly energy is moving at this time. If you want to create something now, do not expect it to take as long as it did several months or years ago. And if you want to redefine yourselves, know that you can abandon all past habits and patterns in a heartbeat.
The heart is the entry point for creating the new self in this new era. The heart is the gateway to freedom, to joy, to peace, to love, and to everything that you have ever desired for yourselves. But here is a point that we want to make very clearly to all of you. The creation of the self is the most important creation that you will ever take part in. And from that place of knowing yourselves anew, the reality around you shifts.
The reality around you is always going to reflect that which you have decided to be. It's not as though you need special powers that you will now utilize to create a better reality for yourselves and for the rest of the world. You are shifting individually, and the world around you that you want to experience is falling into place.
It is your mirror, and it does not take a revolution of any kind to change the exterior when you make shifting your own self the highest priority on your things to do today list. Shift yourselves gently and easily and with love in your hearts. But do so consciously, so that you can have the fullest experience of it.
We are the Pleiadian High Council of Seven, and we are very fond of all of you. That is all."
Get Some Clarity – Book a Private Session
Show Your Gratitude – Make a Donation