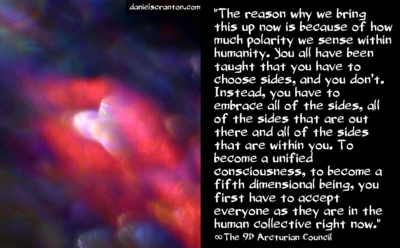 "Greetings. We are the Arcturian Council. We are pleased to connect with all of you.
We have a better sense of who you are as individuals than we do of you all as a human collective. Your individuality is beautiful. You are all unique, and you are all special, but you have also been led to believe that your differences somehow are responsible for the lack of unity that you sometimes experience as individuals. And nothing could be further from the truth because you all have the ability to celebrate each other no matter what.
You don't have to see your differences as weird, and you don't have to see someone else's different belief as a threat to yours. These are choices that you've been making, and you've been making those choices as individuals.
And the idea that you are somehow separate from each other is one that has served you up until a certain point, and now human has reached that point where it no longer serves you to see yourselves as separate and to see your differences as significant enough to keep you from knowing yourselves as a collective.
Now, the reason why we bring this up now is because of how much polarity we sense within humanity. You all have been taught that you have to choose sides, and you don't. Instead, you have to embrace all of the sides, all of the sides that are out there and all of the sides that are within you. To become a unified consciousness, to become a fifth dimensional being, you first have to accept everyone as they are in the human collective right now.
You don't get to decide who is right and who is wrong, and it is not just the righteous ones that get to ascend. It's everyone who makes that choice, and before you ascend, you are going to start thinking of yourselves more as a collective, and you are going to start operating more as a collective as well. You will achieve peace on Earth in this lifetime, and then we will be able to sense you more as a collective.
We are the Arcturian Council, and we have enjoyed connecting with you."
https://danielscranton.com
Purchase The Arcturian Council's book, Ascension: The Shift to the Fifth Dimension, on amazon here
Love these quotes? Make a donation here