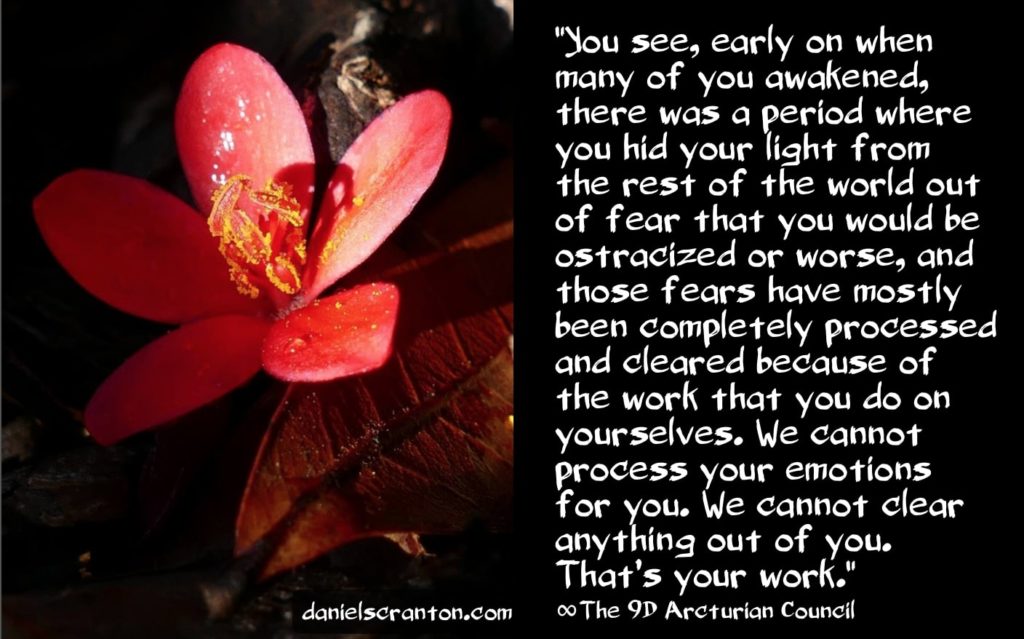 The Light You Shine ∞The 9D Arcturian Council
"Greetings. We are the Arcturian Council. We are pleased to connect with all of you.
We are very pleased to announce that you are making the progress that we would have hoped you would make from the recent energies that have been coming in and hitting some of you very hard. There is never any certainty on our part as to how you will handle the energies as they come in. There is only hope that we and the other beings who are sending you energy have done the correct calibrations. We are very happy to see how many of you are beginning to recognize yourselves as the brilliant beings of light and love that you truly are.
And when we say that, we also want to include that we notice when someone is in their ego and when they are not, and what we are noticing is that the vast majority of those of you who are awake have absolutely no ego involved when you shine your light. You have been shining your lights for the rest of humanity ever since you awakened in this lifetime, and now you are beginning to increase the amount of light that you allow to flow through you without hesitation and without fear.
You see, early on when many of you awakened, there was a period where you hid your light from the rest of the world out of fear that you would be ostracized or worse, and those fears have mostly been completely processed and cleared because of the work that you do on yourselves. We cannot process your emotions for you. We cannot clear anything out of you. That's your work. We give you the upgrades, activations, and downloads that encourage you to do that work and that give you incentive to do that work. Because once you have cleared what you need to clear, you then have access to what we have deposited into your fields. And of course, we are not the only ones doing this.
So you have many reasons to be on top of the whole clearing and processing game. So that is what we see happening, and as a result, you have access to the downloads, the activations, and everything else that we send to you, and you've been shining your light without that egoic sense of being better than anyone else as you do. And that is why you don't attract that negative attention. So you have learned through the clearing what you need to do in this lifetime to be the leaders, the healers, the guides, and the wayshowers that you are without getting yourselves in any trouble along the way.
We are the Arcturian Council, and we have enjoyed connecting with you."
Purchase The Arcturian Council's book, Ascension: The Shift to the Fifth Dimension, on amazon here
Watch the Video Here – I'm in It!
Love these quotes? Make a donation here