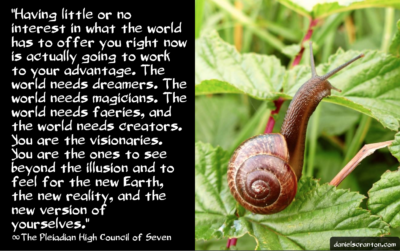 "We are the Pleiadian High Council of Seven, and we are pleased to offer you our words of wisdom.
You find yourselves in a situation now where there is much anticipation about what is to come, and many of you find that life on planet Earth as it is has little to offer you. That is actually by design. Those of you who came forth to navigate through the shift consciously and to lead others set it up for yourselves so that you would not get caught up in the game as it has been played for eons of your time.
So having little or no interest in what the world has to offer you right now is actually going to work to your advantage. The world needs dreamers. The world needs magicians. The world needs faeries, and the world needs creators. You are the visionaries. You are the ones to see beyond the illusion and to feel for the new Earth, the new reality, and the new version of yourselves.
This Earth is transforming, and all of that boredom, and angst, and lack of interest in what fascinates the masses is part of what you are using to summon forth the energy to create something new. Now if you do have an interest in the Earth as it is, and in creating a better life for yourself using that which is available to you now, it does not mean that you are not one of the ones we are speaking to now.
Even those of you who are finding life as it is to be enthralling are seeking something more. You are seeking new experiences, and the world is ready for you to create them. When you are not interested in playing the game that most of your human companions are playing, you have an even greater desire to seek out that which is within yourselves.
That desire will fuel your expansion and will give you the tools to create that you have been seeking. So if you don't like what you see, or if you can't find anything interesting in your world, simply close your eyes and feel for the infinite space within yourselves and the access that you have to higher-frequency energy that is waiting for you to create with it.
We are the Pleiadian High Council of Seven, and we are very fond of all of you. That is all."
Bonus Channeling from Maricris Dominique Dela Cruz-Scranton
Get Some Clarity – Book a Private Session
Show Your Gratitude – Make a Donation