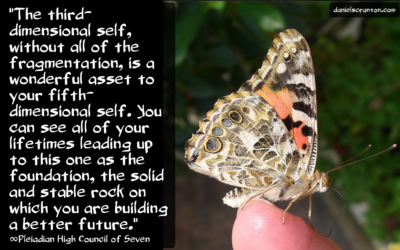 "We are the Pleiadian High Council of Seven, and we are pleased to offer you our words of wisdom.
Taking your next step forward in the ascension process is going to look a lot like taking a few steps back to many of you. Many of you are experiencing that which would seem as though it were a regression of some kind. Some of you are questioning whether or not you are on the path of ascension at all, and certainly you are wondering whether or not this ascension process is worth all of the pain and suffering.
Some of you would not choose this path for yourselves from your human, egoic perspective. You would have chosen a much easier lifetime, on a much simpler and more pleasant planet, in a more advanced reality. But now that you are here and you are experiencing it in your physical bodies, many of you want out. You want to get on with it or give up, but standing where you stand often feels like it is too much, like you have asked too much of yourselves.
And we say to you that if you are still here, still in your physical bodies, then it has been just the right amount to give you the necessary ingredients for creating the fifth-dimensional version of yourself that you want to create. In other words, everything that you're going through is necessary.
It is all part of your plan to become the version of yourself that you always knew you would become in this lifetime. Not one single experience that you've had could be considered a waste of time. Everything has contributed to the becoming of your fifth-dimensional self, and as you become that version of yourself, you will not be leaving your third-dimensional self behind.
You will have an integrated version of your third-dimensional self. So the third-dimensional self, without all of the fragmentation, is a wonderful asset to your fifth-dimensional self. You can see all of your lifetimes leading up to this one as the foundation, the solid and stable rock on which you are building a better future.
And of course, you will be grateful for that foundation, and you will see it all as having been worth it. You will even recognize those apparent setbacks as having been the most valuable experiences in getting you to where you are going.
We are the Pleiadian High Council of Seven, and we are very fond of all of you. That is all."
Get Some Clarity – Book a Private Session
Show Your Gratitude – Make a Donation