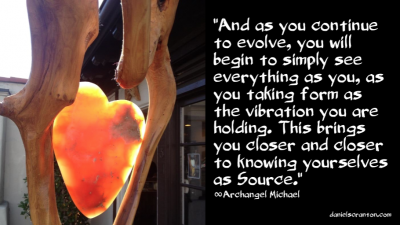 "Welcome. We are here to serve and assist you.
It is our perception that you are moving at a pace that is faster than you have ever moved before. And this means that you will see faster manifestations. You will see that which you focus upon growing and growing more quickly. This also means that you can self-correct before focusing on something that does not serve you for very long.
It is easier for you to see the relationship between what you are offering vibrationally and what you are experiencing in your physical reality. That is one of the many benefits of the quickening of the energies. You get faster feedback than ever before. And when you notice what you are getting, you tend to pay attention to what you are offering.
There is less downtime, so to speak. So if you want to take a rest during this quickening, it is necessary for you to create that restful state. You must create that experience, just as you create the experience of rapid movement. Of course, it is up to you how you want to proceed and what you want to create. But you will see yourselves more and more as creators and less and less as manifestors, and this will serve your evolution.
And as you continue to evolve, you will begin to simply see everything as you, as you taking form as the vibration you are holding. This brings you closer and closer to knowing yourselves as Source, to knowing yourselves as All That Is, and to reaching for an experience as easily as you reach for your drink that sits on the table in front of you.
We are Michael. We are infinite. We are Love."