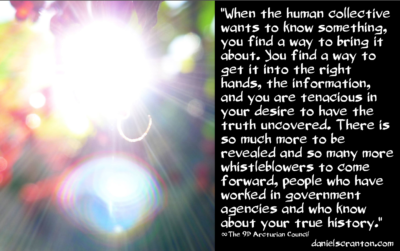 "Greetings. We are the Arcturian Council. We are pleased to connect with all of you.
We have begun to explore the possibilities that are in front of humanity for the rest of this calendar year, and what we can see for the human collective is that you are continuing to raise your awareness. The information that has been suppressed regarding your true history is coming to the surface. There are more and more people talking about the real history of humanity. More and more bones get dug up all the time, and the people who are speculating that there's more to the story than originally thought are becoming more and more credible.
We want you to recognize your part in this. You are the ones who resonate with an alternative history of Earth and of the evolution of humankind. You are the ones who want the information to come forth, and you are the ones who are pulling it through. You create your reality completely, and that includes the information that you are privy to and that becomes available to the rest of the collective. You are the ones who are steering the collective down the timeline that is leading to more and more of this information becoming mainstream.
We are talking about the truth of Atlantis, the truth of Lemuria, the truth of how many years humanity has actually been on the planet, and so much more. When the human collective wants to know something, you find a way to bring it about. You find a way to get it into the right hands, the information, and you are tenacious in your desire to have the truth uncovered. There is so much more to be revealed and so many more whistleblowers to come forward, people who have worked in government agencies and who know about your true history.
And you are all going to feel very good about what comes forward in the coming months, the months that you have left there in 2018. So get ready to have more of what you've been seeking delivered to you on a silver platter from credible sources.
We are the Arcturian Council, and we have enjoyed connecting with you."
Purchase The Arcturian Council's book, Ascension: The Shift to the Fifth Dimension, on amazon here
Love these quotes? Make a donation here