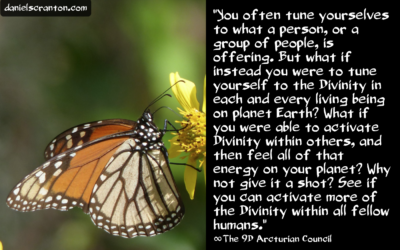 "Greetings. We are the Arcturian Council. We are pleased to connect with all of you.
You have a tenacity about you that has served humankind very well. There have been times when humanity has almost been wiped out, and yet, there you are, more than seven billion of you now. The accomplishment of your numbers should not be underestimated or unacknowledged.
There is so much life on planet Earth, and with more life there is more Source Energy. The spark of Divinity that is within every living being on planet Earth is helping you shift. You can access more of who you are by tuning in to the energies that are all around you.
As empaths, you often tune yourselves to what a person, or a group of people, is offering. But what if instead you were to tune yourself to the Divinity in each and every living being on planet Earth? What if you were able to activate Divinity within others, and then feel all of that energy on your planet? Why not give it a shot? See if you can activate more of the Divinity within all fellow humans.
Feel the Divinity within yourself first. Reach for the center of your heart and access more of the Source Energy that you truly are. With that energy moving through you, you hold more of the Source Energy perspective, and you are more likely to activate within others that knowing of who they really are?
This is a great awakening, and each of you who is awakened holds the key within you for all of humanity. It only takes one of you to fully realize the shift in consciousness.
We are the Arcturian Council, and we have enjoyed connecting with you."
Get Two 1-Hour Sessions with Maricris Dominique Dela Cruz-Scranton at a Discount of Over 75%
Love these quotes? Make a donation here