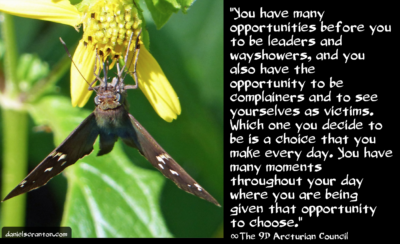 "Greetings. We are the Arcturian Council. We are pleased to connect with all of you.
It has been quite a journey for humanity, and you have made tremendous progress in the years since you became conscious and souled beings on planet Earth. This journey that you have been on was one that had a particular outcome as the goal, and you are making tremendous progress. You are actualizing the shift in consciousness with grace. You are doing so at the perfect rate.
You are moving forward wonderfully and with much less drama and trauma than you have experienced in your collective past. What you see happening around you that seems to be evidence to the contrary is in fact the lowest of the low, and it is coming to the surface now for you all to decide for yourselves who you want to be and how you want to shift.
You have many opportunities before you to be leaders and wayshowers, and you also have the opportunity to be complainers and to see yourselves as victims. Which one you decide to be is a choice that you make every day. You have many moments throughout your day where you are being given that opportunity to choose.
The path of the leader and wayshower is often not the easy path. It is often the slow way, and it is the way that forces you to take responsibility for yourselves and to see yourselves in everything and everyone around you. The path of victimhood and blame is one that continues the struggle of 'us versus them.' It is the path of separation, and it is the one that is filled with drama and trauma, fighting and violence.
Make your decisions consciously about who you want to be and how you want to shift, and let everyone else do the same. So when you see someone making a choice that you would not make for yourself, let it go. Show that person love and compassion, but do not feel the need to correct him or her. Instead, be the leader that you are and the wayshower that you always intended to be by choosing for yourself the path of love, compassion, and unity.
We are the Arcturian Council, and we have enjoyed connecting with you."
Love These Quotes? Buy my new eBook – it contains 240 of them!
Or get the paperback version here