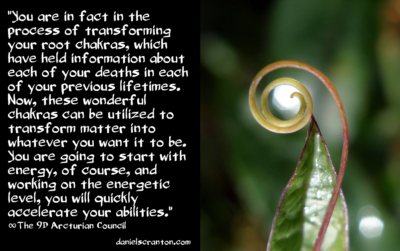 "Greetings. We are the Arcturian Council. We are pleased to connect with all of you.
In the process of awakening, you have encountered much of the darkness that lies within you and within others, and in the face of that darkness, you have shined your light more brightly. You have moved from playing a game of survival to opening yourselves up to the potential that has always existed within you. You are here to transcend the limitations of the physical, and one of the easiest ways to accomplish that is to remember that you are infinite and eternal, and therefore, you no longer need your survival instinct.
You are in fact in the process of transforming your root chakras, which have held information about each of your deaths in each of your previous lifetimes. Now, these wonderful chakras can be utilized to transform matter into whatever you want it to be. You are going to start with energy, of course, and working on the energetic level, you will quickly accelerate your abilities. You will not need technology to transform matter, but initially you will utilize it.
More and more you will come to realize that it is you that is doing the transforming, and you will feel less and less dependent upon the machines to do the work for you. You are transforming yourselves as well from carbon-based beings to crystalline-based, light-bodied beings. And when you are fully aligned with your light body, you will not feel so finite and fragile.
You will know once and for all your Divinity and your infinite and eternal nature. You will move past this idea of survival, and when you do, your lives will be filled with magic, as you shed the fears of thousands of lifetimes and embrace the certainty in this now moment, that as you ascend, you no longer need death to transform.
We are the Arcturian Council, and we have enjoyed connecting with you."
Get a Private Session with The Arcturian Council (or any of the other beings I channel) at 50% Off – Enter Discount Code: LOVE at Checkout
Love these quotes? Make a donation here