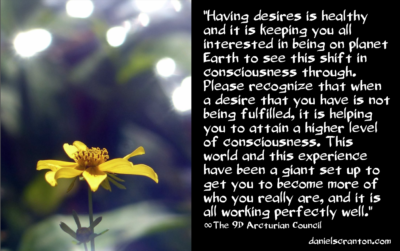 "Greetings. We are the Arcturian Council. We are pleased to connect with all of you.
You face many obstacles in the living of the life that you want to live. The obstacles that are there have been placed there by you in order to keep your desire heightened. The desire of the collective is what fuels all of you on this journey of ascension. If everything were exactly as you all wanted it to be, you would experience more complacency.
Need accelerates the forces of energy that you are working with. That is why you have created for yourselves a version of reality where there are so many needs that are not being met. It doesn't matter what your desire is. It does not matter how basic it is, or how extravagant. The desire helps bring about a higher level of consciousness. If you can have a desire and not have that desire fulfilled, and find joy and peace within yourself, then you can raise the level of consciousness on planet Earth.
Now, desires often get a bad rap because of the things that some people are willing to do in order to fulfill those desires, in order to get past or remove those obstacles. But what we see more of on planet Earth is the human who makes peace with the fact that the desire is just out of reach. We see humans finding joy in the littlest of things.
Having desires is healthy and it is keeping you all interested in being on planet Earth to see this shift in consciousness through. Please recognize that when a desire that you have is not being fulfilled, it is helping you to attain a higher level of consciousness. This world and this experience have been a giant set up to get you to become more of who you really are, and it is all working perfectly well from our perspective.
We are the Arcturian Council, and we have enjoyed connecting with you."
Get a Private Session with The Arcturian Council at 50% Off – Use Discount Code: LOVE
Coming in February – A Soulshop on Wealth Consciousness with Maricris Dominique Dela Cruz-Scranton
Love these quotes? Make a donation here