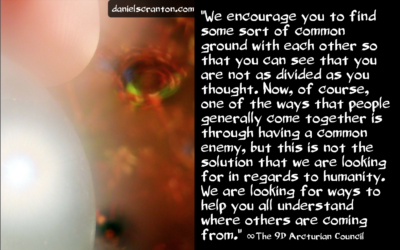 "Greetings. We are the Arcturian Council. We are pleased to connect with all of you.
We are assisting you with the bringing together of the different perspectives that you have on your planet. We help by understanding where everyone is coming from with their views, their beliefs, and even their prejudices. It is important for all of you to understand where the other is coming from and where they developed their beliefs so that you can have compassion for someone who you may have in the past just dismissed because of their views on something.
It is so important that the human collective comes together that we are offering different downloads that you will experience in your dreams to help you make peace with the racist, the misogynist, the bigot, and to be able to forgive those individuals. We are never going to try to influence any of you to agree with someone whose views, opinions, and beliefs you find deplorable, but we will always attempt to get you to come together with people who have different views and talk to them.
We encourage you to find some sort of common ground with each other so that you can see that you are not as divided as you thought. Now, of course, one of the ways that people generally come together is through having a common enemy, but this is not the solution that we are looking for in regards to humanity. We are looking for ways to help you all understand where others are coming from.
If you could see how a person has been programmed, or how they grew up, and what they experienced, you could more easily make peace with those whose beliefs are in direct contradiction to yours. And when you can make peace and drop resistance to what another is thinking, you can open the door to a more unified human collective. And this is what the world needs. It is time to talk about your differences and to stop shouting at one another because of them.
We are the Arcturian Council, and we have enjoyed connecting with you."
https://danielscranton.com
Purchase The Arcturian Council's book, Ascension: The Shift to the Fifth Dimension, on amazon here
Love these quotes? Make a donation here