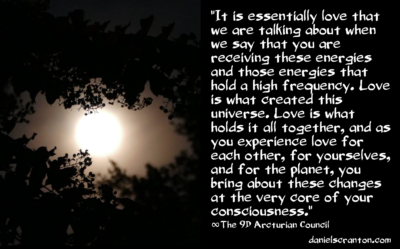 "Greetings. We are the Arcturian Council. We are pleased to connect with all of you.
We have been excited for quite some time to see how all of you would receive the energies of this most recent lunar eclipse, and we are pleased to announce that the human collective has in fact grounded a tremendous amount of high frequency energy in these past twenty-four hours. We are particularly thrilled to see how you all prepared yourselves for this minor event.
We know that many of you are excited about the major event and the shift, but we also want you to see how important it is to manage the energies of the smaller events, so that you can take the amount of shifting that is available to you. This is not an easy task, what you have in front of you. It is a monumental leap forward, and you are doing wonderfully well with assisting yourselves and each other.
We love to see you all sharing these experiences and sharing your experiences of these events with each other. We can see how the wonderful energies are being utilized for the betterment of all humankind. We see you all holding space for the human collective, wanting what is best for everyone, and seeking out that peaceful, harmonious existence there on planet Earth.
It is essentially love that we are talking about when we say that you are receiving these energies and those energies that hold a high frequency. Love is what created this universe. Love is what holds it all together, and as you experience love for each other, for yourselves, and for the planet, you bring about these changes at the very core of your consciousness.
There is more light and love coming all the time, so continue to expect to receive waves and waves of these high-frequency energies. Continue to ground yourselves and connect with each other. This is the best part of your journey. This is the part where you get to reap the benefits of everything that is happening. And make no mistake; it's all happening for you and because of you.
We are the Arcturian Council, and we have enjoyed connecting with you."
Purchase The Arcturian Council's book, Ascension: The Shift to the Fifth Dimension, on amazon here
Get a Private Session with The Arcturian Council (or any of the other beings I channel) for 50% Off. Enter Discount Code LOVE at Checkout
Love these quotes? Make a donation here