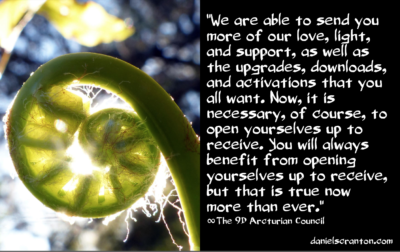 "Greetings. We are the Arcturian Council. We are pleased to connect with all of you.
We have opened a number of portals for those of you who are interested in receiving more of our vibration. These portals have been strategically placed in different parts of your planet so that we can reach the largest number of you directly. Now, if you are wondering how you find one of these portals, rest assured that you don't need to find them in order to receive because of them. There are no magic words or phrases you need to speak in order to open them. They are open.
And we are able to send you more of our love, light, and support, as well as the upgrades, downloads, and activations that you all want. Now, it is necessary, of course, to open yourselves up to receive. You will always benefit from opening yourselves up to receive, but that is true now more than ever. Many of you have been afraid of lower frequency beings, thought forms, energies, and psychic attacks, and you have closed yourselves off as a result.
If that is the case for you, then now is a wonderful time for you to face those fears, feel them, process them, and let yourselves receive. Let our high frequency gifts into your energy fields, and unwrap them whenever you feel ready to do so. We are offering so much because of how beautifully you have all responded to us, and we feel your readiness for more. We sense within the human collective a desire to connect, and we are so happy to be a part of this journey with all of you.
It is a pleasure and a beautiful and wonderful experience for us. We will continue to monitor how well you are all doing with our transmissions, and we will continue to hear all of you when you call out to us with specific requests. And all you need to do is relax and let it all in.
We are the Arcturian Council, and we have enjoyed connecting with you."
Get a Private Session with The Arcturian Council (or any of the other beings I channel) for 50% Off. Enter Discount Code LOVE at Checkout
https://danielscranton.com
Purchase The Arcturian Council's book, Ascension: The Shift to the Fifth Dimension, on amazon here
Love these quotes? Make a donation here