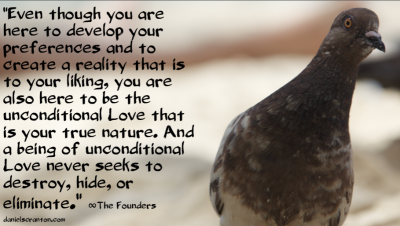 "Blessings.
By excluding something from your experience of reality, you are keeping it active in your vibration. When you attempt to eliminate something, you are giving it more power over you than you really need to. By simply choosing something else, something wanted in your experience, you are giving your attention to that which you want to experience, and you are allowing that which is not preferred to still exist.
Even though you are here to develop your preferences and to create a reality that is to your liking, you are also here to be the unconditional Love that is your true nature. And a being of unconditional Love never seeks to destroy, hide, or eliminate anything or anyone.
This is so important for all of you now to recognize, because everything that has been hidden is coming to the light to be seen, to be heard, to be acknowledged. But none of it has to be squashed out in order for you to live the life you want to live.
There is no banishing from reality, but there is creating something new, something that is born out of that which you would banish. So you see how it all serves you, how anything can be a catalyst to create something new?
As you move through your day and you experience that which is not wanted, you may have a reaction to it. But once you have your reaction, you then get to choose how you want to respond. You then are given the opportunity to bless it, to let it be, and to choose something else.
Believe in your ability to do so, and you will not need to eliminate the unwanted.
We are The Founders. We are the keepers of the flame."