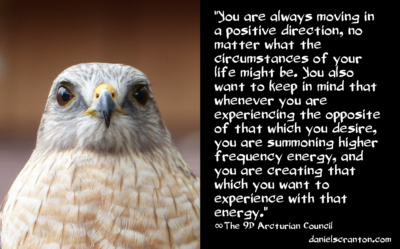 "Greetings. We are the Arcturian Council. We are pleased to connect with all of you.
You take yourselves to the precise circumstances in your lives that you need to experience in order to clear the very specific emotional trauma that you are carrying. As conscious creator beings, of course you do not want to create something that will trigger you emotionally and get you to have to face that trauma and clear it.
But here is the thing that so many of you have yet to understand – you are always going to create that which serves your greatest and highest good. Sometimes that also aligns with what you desire for yourself, and sometimes it involves creating the exact opposite.
But all of this, all of the experiences that you have, are about creating the new you. And therefore, you are always moving in a positive direction, no matter what the circumstances of your life might be. You also want to keep in mind that whenever you are experiencing the opposite of that which you desire, you are summoning higher frequency energy, and you are creating that which you want to experience with that energy.
And then all you need to do, once you complete your mission of releasing that emotional trauma, is to continue to align yourself with that which you have created. What is necessary in order to complete the process of that creation and manifestation is that you don't let current circumstances that you are experiencing keep you from maintaining the hope within you.
If you give up and stop focusing, if you give up on your desires, you will keep yourself in that cycle of only creating for yourself circumstances that will trigger the release of emotional trauma. But with some determination and focus, you can release yourself from that cycle and experience anything and everything that you want to experience.
We are the Arcturian Council, and we have enjoyed connecting with you."
Get a Private Session with The Arcturians (or any of the other beings I channel) at 50% Off – Discount Code LOVE. Enter it at Checkout.
Two 1-Hour Private Sessions with Maricris Dominique Dela Cruz-Scranton at a HUGE Discount
Love these quotes? Make a donation here