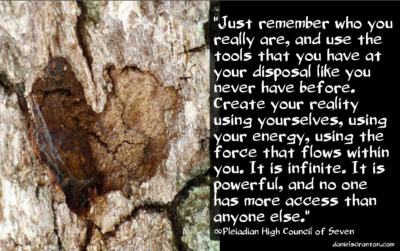 "We are the Pleiadian High Council of Seven, and we are pleased to offer you our words of wisdom.
Generating a force within yourselves is the easiest way for you to magnify your potential as a creator being. Sometimes you generate that force from living a lot of what you do not want to experience. Sometimes you generate that force from pure desire, from having witnessed another living what you want to live. Some of you are even born with a greater desire within you to live something, to achieve something, to become something.
And now there is a new way for you to generate this creative energy within yourselves. It has nothing to do with anything that you experience and everything to do with your ability and your willingness to tap in to the force that you are.
You are all forces to be reckoned with. You are all more powerful than you think. And because you have lived for so many years without accessing the power that you truly are, without generating that force within yourselves, you have come to believe that you are quite ineffectual in some areas.
And we would like to give you permission to access more of the energy of that force that you really are, and we would like to invite you to create with it. We are not talking about creating with your thoughts. We are not talking about creating with your actions, and we are not even talking about creating with emotions. We are talking about creating with a lifeforce energy that is at your very core and that you have an unlimited supply of.
Now how do you generate this? Well, you start by acknowledging that it's there. You start by feeling for the bigness of who you are, and then you recognize that you have felt powerful in your lives at one time or another. And you simply seek to access that power within yourselves. You generate it with your desire and your focus.
Now some of you have felt quite powerless for quite some time, and so it may seem as though this is a tall order for you. But just remember who you really are, and use the tools that you have at your disposal like you never have before. Create your reality using yourselves, using your energy, using the force that flows within you. It is infinite. It is powerful, and no one has more access than anyone else.
We are talking about believing in yourselves, not in your abilities, not in your physical strength, not in your mental acuity. Believe in who you really are. Feel for that energy, and use it to create. That is our recommendation.
We are the Pleiadian High Council of Seven, and we are very fond of all of you. That is all."
Get Some Clarity – Book a Private Session
Show Your Gratitude – Make a Donation