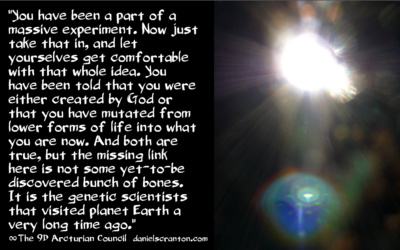 "Greetings. We are the Arcturian Council. We are pleased to connect with all of you.
We have the opportunity to share something with you now that we have been waiting to share with you. The opportunity has presented itself because of what you have just received energetically. You have just opened yourselves up to the equinox energies in a way that allows you to receive information now that you could not have previously accepted.
The timing is right at this moment for all of you to know that you have been a part of a massive experiment. Now just take that in, and let yourselves get comfortable with that whole idea. You have been told that you were either created by God or that you have mutated from lower forms of life into what you are now. And both are true, but the missing link here is not some yet-to-be discovered bunch of bones. It is the genetic scientists that visited planet Earth a very long time ago and got the experiment started.
Now most people will not like hearing this, so we will soften it a bit by letting you know that you have benefitted greatly from being a part of this experiment, and you knew before you incarnated in every lifetime on planet Earth what you were getting yourselves into. Everything happens by agreement.
Now the interesting part of where you are now is that you are becoming aware of your extra-terrestrial friends and what you are made of. Now is the time to take it even further and to see that all of the beings that have been helping you along in your physical, mental, and spiritual evolution, are different aspects of you. Usually it will be another part of your oversoul that comes down on a ship and tinkers with your DNA and genetics.
You are going to discover that this galaxy is one gigantic family, and we mean that quite literally. You are also going to find that once you become the full and conscious creators of your own evolutionary process, you will be quite amazed by what these extra-terrestrial brothers and sisters of yours have been able to accomplish.
We are the Arcturian Council, and we have enjoyed connecting with you."
Do an 8-Day Chakra Cleanse with my Lovely Wife, Maricris Dominique Dela Cruz-Scranton – At a special price for a limited time
Love these quotes? Make a donation here