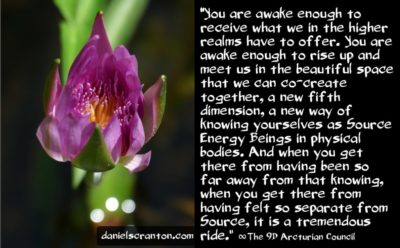 You Are Awake Enough to Meet Archangels & Ascended Masters ∞The 9D Arcturian Council, Channeled by Daniel Scranton
"Greetings. We are the Arcturian Council. We are pleased to connect with all of you.
We are quite famous throughout the galaxy for our spirituality here in the Arcturian star system. We have been through so many different processes, teachings, exercises, meditations, and different ways of knowing ourselves as Source Energy Beings in physical bodies, and that is essentially what you all are there to discover. You are there to discover how to be Source Energy in a physical body, how to represent Source in the physical. You are there to know yourselves as gods in the flesh.
And the journey that you have been on to that knowing has been much longer than the journeys that Arcturians have been on throughout history. When incarnate, we came into our physical bodies in a higher vibrational state. That is not us bragging. That was a choice, and it was a choice that almost everyone on Earth has made in previous lifetimes in our star system. We are doing our best to help humankind, even though your experience has been, and continues to be, much, much different from the Arcturian experience.
But you need a stable force. You need beings to hold that higher vibrational frequency so that we can call you up to us. We, and others like us throughout the galaxy and throughout the universe, are always pulling humanity up with our intention, with our love and our compassion, and we will continue to do so because we love and honor you so much. We want so much for humankind to succeed with as much joy and ease as possible. And you are living at a time right now where joy and ease are hard to come by.
Therefore, we invite you to lean on us more. Lean on the archangels more. Lean on the ascended masters more. Surrender to our invitations to be in a higher vibrational state, and you will find yourselves there. You have already come so far, and those of us in the higher realms are ready to give you that last little nudge, so that you can catapult yourselves into the fifth dimension and so that you can start living better lives there in the fourth.
You are awake enough to receive what we in the higher realms have to offer. You are awake enough to rise up and meet us in the beautiful space that we can co-create together, a new fifth dimension, a new way of knowing yourselves as Source Energy Beings in physical bodies. And when you get there from having been so far away from that knowing, when you get there from having felt so separate from Source, it is a tremendous ride.
We are the Arcturian Council, and we have enjoyed connecting with you."
NOW – Get a Private Session with The Arcturian Council (or any of the other beings I channel) for 50% Off. Enter Discount Code LOVE at Checkout. Discount code is also good for channeling lessons and ALL recordings
Watch Me Channel This Transmission on YouTube
MONDAY – Group Meditation Class – July 27th – Register Here
Intuitive Sound, Hands-On/Reiki & Light Language Healing Academy ∞3 Week Course…Register Here
NEW – Get a Personal Message from Your Spirit Guides
Purchase my NEW paperback and/or ebook, Ascension: The Shift to the Fifth Dimension, Volume 2 (by The Arcturian Council) here
NEW Master Course – Accessing Your Spiritual Gifts & Starting a Spiritual Business Master Course – Get it Here
Get Exclusive Video Content on My Patreon page
Love these quotes? Make a donation here