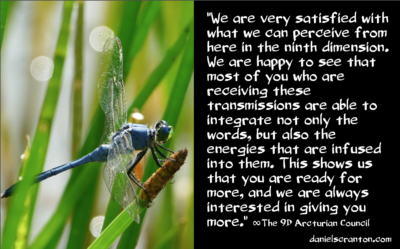 "Greetings. We are the Arcturian Council. We are pleased to connect with all of you.
We have begun to experience the effects of our transmissions on all of you, and we are very satisfied with what we can perceive from here in the ninth dimension. We are happy to see that most of you who are receiving these transmissions are able to integrate not only the words, but also the energies that are infused into them. This shows us that you are ready for more, and we are always interested in giving you more.
Now, we are not the only beings who are doing this. There is an entire network of beings here in the non-physical, and we are connected to other beings in the physical as well. Our network then synchs up with the Earth and the sun to create such a magnificent web for all of you to rest in, much like one of your hammocks. Resting and receiving are key components to your evolution. It's not about the doing at this point. You have done enough.
Now, as you continue to receive from all of us in this network, you are going to notice that it becomes easier to transmit to the other humans, the ones who are still asleep, because you will be acting on our behalf, and we know how to reach them. But of course, we need your help. We cannot do it alone. You are the ones who are living side by side with those who have yet to awaken, and so, you know better how to deliver what we are transmitting.
You know how to make what we are giving you accessible to them, and you know how to do this whether you realize it or not. You see, this channel who is speaking for us right now is not the only of you who is acting as a conduit. Whether you speak words or not, you are all transmitting energy, and the rest of the collective is benefitting greatly from what you have been able to receive, integrate, and now transmit. We are very proud of all of you.
We are the Arcturian Council, and we have enjoyed connecting with you."
https://danielscranton.com
Purchase The Arcturian Council's book, Ascension: The Shift to the Fifth Dimension, on amazon here
Love these quotes? Make a donation here