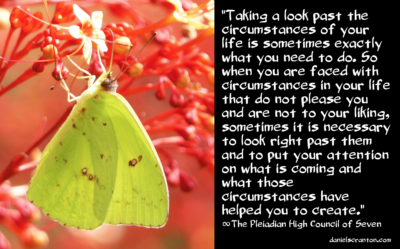 "We are the Pleiadian High Council of Seven, and we are pleased to offer you our words of wisdom.
Taking a look past the circumstances of your life is sometimes exactly what you need to do. So when you are faced with circumstances in your life that do not please you and are not to your liking, sometimes it is necessary to look right past them and to put your attention on what is coming and what those circumstances have helped you to create.
As you sit wherever you are, and you contemplate how you got there, you are not serving yourself and your desire to move past those circumstances. It makes no difference how you got there, and focusing on how you got there does not move you into the place where you want to go. If anything it keeps you stuck in a loop where you continue to create the circumstances that you do not prefer.
So what you really want to do is to recognize that everything in your life is serving you in some way. Sometimes a circumstance in your life is getting you to access more energy so that you can create a new and better circumstance. Sometimes it is meant to simply spark that desire within you that propels you into the new experience, the new circumstances.
So whatever it is you are living has a purpose, and that purpose serves you. When you recognize this, you can stop obsessing about how you got to that place. You can stop feeling sorry for yourself, and you can start a proactive approach to the creation of that which you do desire. No circumstance is ever meant to be permanent. That would only stagnate your growth.
Now, if things in your life are just the way you want them, you can also expect them to get better from there as well. You will always be in a state of expansion and growth, and sometimes what you need to propel you into that growth is precisely what you do not want to experience. Sometimes living exactly what you don't want to experience gets you beyond the fear of living it.
And so once you face that fear, you recognize that it is just a place for you to catapult yourself from. It is just summoning forth more energy through you, and it is giving you an excuse to create. Be certain that wherever you are on your journey and whatever it is you are experiencing has a gift for you, and it is up to you to unwrap that gift and to benefit from whatever it is you are living in your lives.
You and only you can change your circumstances, and you can only do so when you empower yourselves by seeking to be back in the flow of energy that is taking you to that which you do desire.
We are the Pleiadian High Council of Seven, and we are very fond of all of you. That is all."
Bonus Channeling from Maricris Dominique Dela Cruz-Scranton
Get Some Clarity – Book a Private Session
Show Your Gratitude – Make a Donation