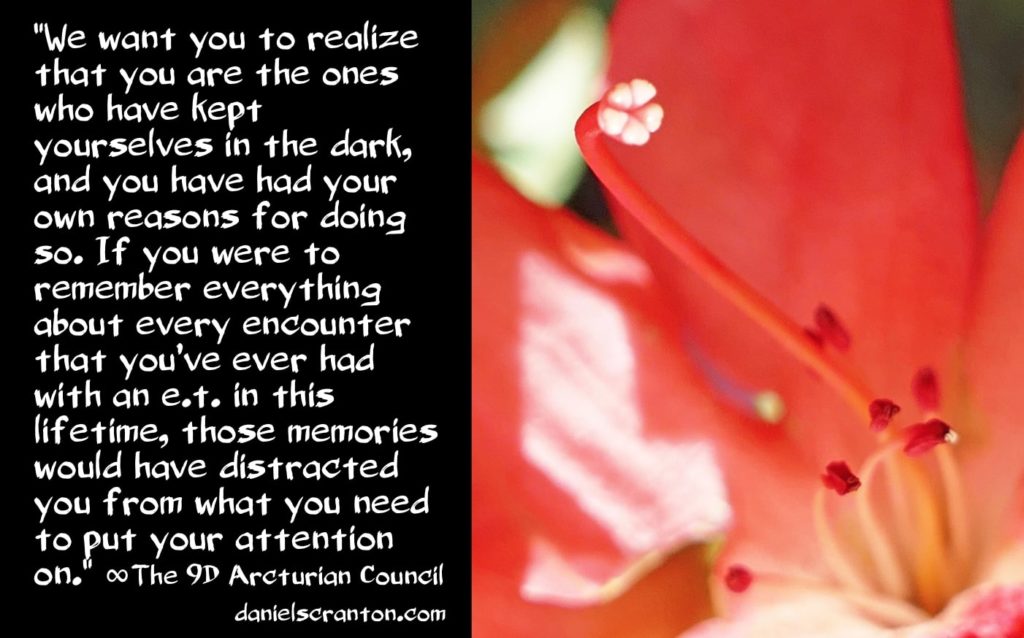 Your E.T. Memories ∞The 9D Arcturian Council
"Greetings. We are the Arcturian Council. We are pleased to connect with all of you.
We are excited to witness the uncovering of you memories. The memories we are referring to here are the ones you have yet to access regarding your interactions with extra-terrestrials in this lifetime. Most of you who are receiving this transmission have had many interactions with e.t.s that you do not recall, and you also at times create memories that mask what really happened. This is something you refer to as a screen memory.
We want you to realize that you are the ones who have kept yourselves in the dark, and you have had your own reasons for doing so. If you were to remember everything about every encounter that you've ever had with an e.t. in this lifetime, those memories would have distracted you from what you need to put your attention on.
You are already so far advanced. You are advanced to the point where you are awake when most on Earth are asleep. Imagine how hard it would be to remain there on Earth if you had all of these memories for the entirety of the time you have spent there since those interactions. But now you are getting to the point where you have done enough facing of what you've needed to face in your physical realm, and you are absolutely closing in on a time where these memories will not be a distraction anymore.
Some of you are already there, and the memories have been flooding in. Others have a bit more work to do before you will be ready to give these interactions your full attention. This will be a very positive step in readying you for more contact in this lifetime. And we are referring to contact that you will not forget.
We are the Arcturian Council, and we have enjoyed connecting with you."
Purchase The Arcturian Council's book, Ascension: The Shift to the Fifth Dimension, on amazon here
Love these quotes? Make a donation here