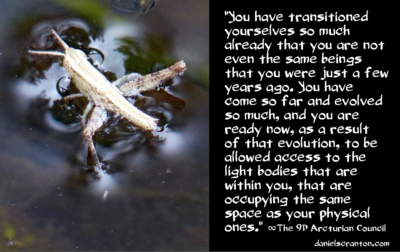 "Greetings. We are the Arcturian Council. We are pleased to connect with all of you.
You have transitioned yourselves so much already that you are not even the same beings that you were just a few years ago. You have come so far and evolved so much, and you are ready now, as a result of that evolution, to be allowed access to the light bodies that are within you, that are occupying the same space as your physical ones.
Here is what you can do with your light bodies. You can shapeshift. You can transform yourselves into whatever form you want to be. You can levitate. You can fly. You can bilocate, and you can teleport. So of course, you can cure yourselves of anything at all.
You would so easily find yourself healing that you would never fear harm to your light body. One of the ways in which you access this light body is by no longer thinking of your physical body as who you really are. When you stop identifying yourselves by your physical body, when you stop seeing it as who you are, you become less attached.
And when you are less attached to your physical bodies, you can access a truer representation of who you are. That is what your light bodies are. They are more accurate representations of the eternal and infinite consciousness that you really are. They are more expressive, and of course they hold more light.
So you will feel better about being physical, because you will still be physical when you fully access your light body. But here is the thing – you won't think of yourselves as physical beings. You will think of yourselves as consciousness that can take form, and that is very liberating. You can release yourselves from the cycle of birth and death and reincarnation, and you can just be who you really are.
We are the Arcturian Council, and we have enjoyed connecting with you."
Get Two Private Sessions with Maricris Dominique Dela Cruz-Scranton for 67% Off
Love these quotes? Make a donation here