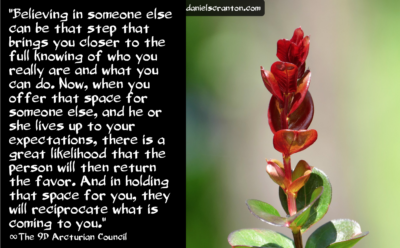 "Greetings. We are the Arcturian Council. We are pleased to connect with all of you.
We have an awareness of your abilities, your potential, your true nature as Beings of Source Energy, and we hold that knowing for you. We ask that you do the same for one another. It might be easier for you at times to believe in someone else than it is for you to believe in yourself, and it is alright if that is where you are in the current moment. You can still come to a place where you see yourself as Divine and you actualize your potential and abilities.
Believing in someone else can be that step that brings you closer to the full knowing of who you really are and what you can do. Now, when you offer that space for someone else, and he or she lives up to your expectations, there is a great likelihood that the person will then return the favor. And in holding that space for you, they will reciprocate what is coming to you.
What you put out energetically will come back to you, because there is no real separation between you and anyone else. There is no real separation between you and your universe, and we know that you understand this. But we are eager for you to experience it. We are eager for you to experience the truths that you are Source Energy Beings, eternal, infinite, and ever-expanding consciousness. You are unconditional love in the flesh, and when you feel that love flowing through you, you are at your most powerful.
You reach your potential when you reach for love within you. When you feel love flowing through you, everything else falls into place. You recognize that the lack of separation means that you are the universe that you previously thought you wanted to create within. And as you co-create with this universe, coming from a place of love, you reach that potential, and you might even exceed it. In fact, we know you will.
We are the Arcturian Council, and we have enjoyed connecting with you."
Love these quotes? Make a donation here