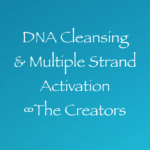 In this download of 11 minutes and 11 seconds, The Creators take us through a process to cleanse our DNA. Next, they offer a white light transmission to help us bring more strands of our dormant (what scientists call "junk") DNA back online. This activation will affect you on a physical level, so be sure to drink lots of water before and after you receive it. And then rest up and enjoy the new physical vehicle you'll be operating with! <3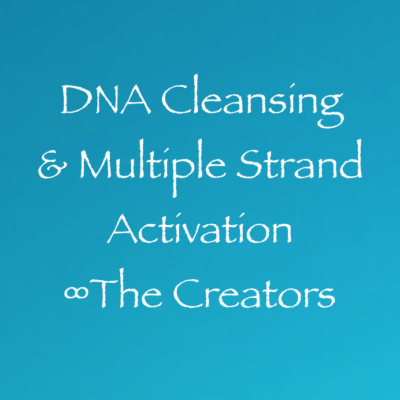 In the just over two and a half hour audio recording from this online event that I did with Maricris Dominique Dela Cruz-Scranton, you'll experience my channeling of The Creators, as well as the guidance from Maricris, who is a Psychic Priestess and Shamanic Soul Activator.
To start the event, Maricris led a beautiful guided meditation that aligned us all with the Earth's energies, Source, and our chakra system. This meditation is one you can do every day to align you with the truth of who you are.
Next, The Creators brought through their perspective on the topic of Manifesting Abundance with Ease & Joy. Following their opening transmission, Maricris discussed her own journey with the topic and offered insights and support to the group.
Finally, we had the question and answer portion of the event. Everyone got to ask a question of The Creators and Maricris, and the topics included: removing blockages to abundance, balancing one's chakras, how to deal with debt and guilt after a vacation, how to receive money for doing spiritual work. Many more questions were also asked and answered. It was a truly uplifting event! Enjoy <3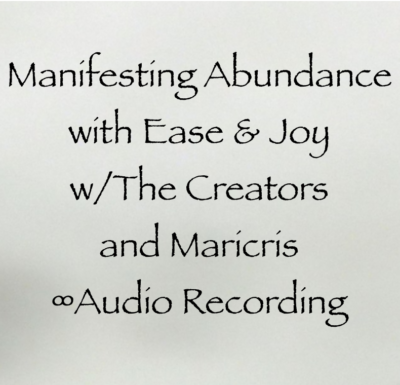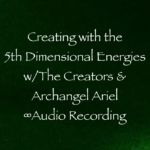 The audio recording from this online event is 2 and a half hours, and it's jam-packed with high frequency concepts and energy. First, Maricris Dominique Dela Cruz-Scranton led the group through a guided meditation. Then I channeled The Creators, and they spoke about creating using the fifth dimensional energies. Next, Maricris channeled Archangel Ariel on the topic. And then we switched to the Q&A format. Questions on a variety of topics were asked by the participants and answered by The Creators and Ariel. So much good stuff in this one! Enjoy <3
In this download of 11 minutes and 11 seconds, The Creators give a practical way to set and achieve all of our goals. It's always a good idea to acquaint ourselves with what we want to create, and The Creators are experts on the subject. They provide a process and walk us through how to actualize all of the goals we've set for ourselves. Practical wisdom from The Creators. Enjoy <3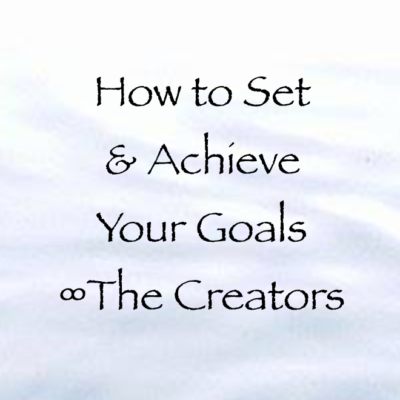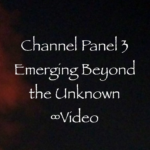 In this one hour video from The Channel Panel 3: Emerging Beyond the Unknown, I channeled The Creators. This event was filmed in my home on Maui in October of 2016. They spoke on the topic at hand and the current energies before answering a diverse set of questions from those in attendance. If you've never seen me channel before, this will be a treat for you :). The link you will receive will be of an unlisted youtube video. Please don't share it with others. It's unlisted, and therefore cannot be accessed on youtube without the link that you'll receive via email. Enjoy! <3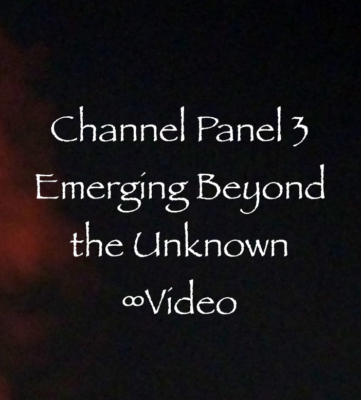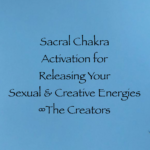 In this approximately 12 minute download from The Creators, they take us through an explanation of how our sacral chakras get blocked, what happens as a result, and then they walk us through a process of downloading more of the Oversoul's energy directly into the sacral chakra. The result: a release of sexual and creative energies for the purpose of greater freedom of self-expression. Enjoy! <3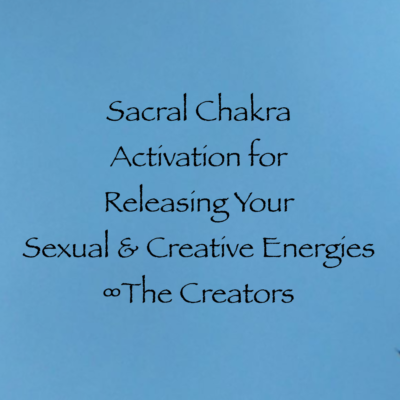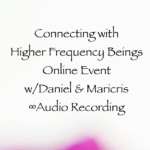 The audio recording from this online event with me and Maricris Dominique Dela Cruz-Scranton is just under 2 hours and 15 minutes in length. In it, you'll be taken through an opening meditation from Maricris that will ground you and align you with Mother Earth and Source. Next, I channeled The Creators on the topic of Connecting to Higher Frequency Beings, and then Maricris channeled her guides: Soulstar. Once the guides were done with their monologues, we opened it up to questions. Everyone in attendance got to ask a question of The Creators and Soulstar. There were a myriad of topics covered, and the frequency of the energy transmission was exceptional! Enjoy <3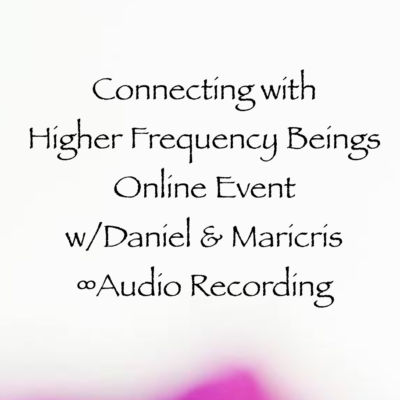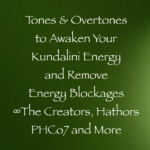 The tones and overtones offered in this download of over 11 minutes are infused with the intention to awaken your kundalini energy and remove any energy blockages you may be carrying in your chakras, body, and/or energy field. This one was a group effort, and I could feel The Creators, The Hathors, The PHCo7, and other collectives coming through to assist with the tones and overtones. You can tone along or just lay back and listen. I also recommend focusing on the base of your spine as you receive these energetic downloads through the sounds. Enjoy! <3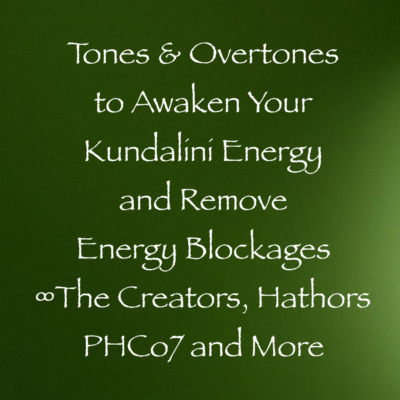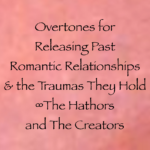 These overtones from The Hathors and The Creators are infused with the intention to help us release past romantic relationships and all the energies and traumas surrounding them. Whether you tone along or just lie back and listen, you'll receive the benefit of this 10-minute download. Tones and overtones are powerful healing devices, especially when infused with intentions. Just by listening, you'll be purging the energy from your past romantic relationships. Enjoy <3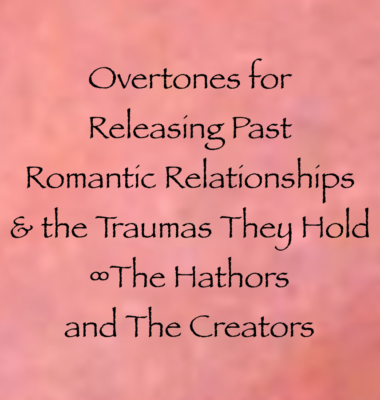 We've all heard about the amazing abilities we will access when we fully engage with the fifth dimension, but how do we access them now? That was the topic for this online workshop I did with Ina Lukas. She channeled The Alchemists, and I channeled The Creators, and the recording is just over 2 hours and 45 minutes. You'll receive processes and exercises to access your 5D abilities, and you'll also hear the answers The Alchemists and The Creators gave to the questions posed by those who participated live. Enjoy! <3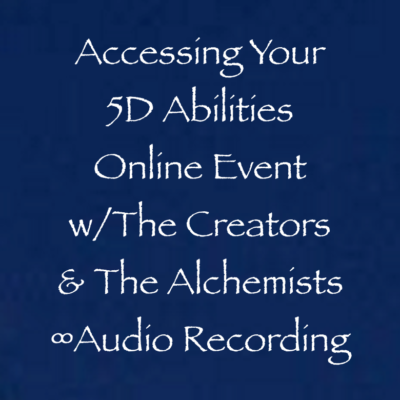 The Fifth-Dimensional Grid of Energy is available to us in the here and now. In this download of just over 11 minutes, The Creators take us through a process of feeling for that grid, accessing it within ourselves, and connecting the external 5D grid with our internal one. This process connects us to each other and Mother Earth. Once you make that connection, it's yours forever. Enjoy <3