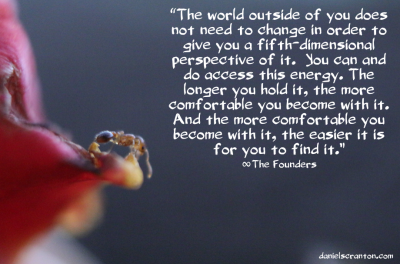 "When all the hype around your transition to the fifth dimension seems as though it keeps you from living in your current experience of reality, then it does not serve you. It only serves you if you see it as that which is already available to you. It is your destiny to become fifth-dimensional beings, but you will ultimately decide how you do it, how you make the transition.
If you would like to do it with ease, then begin practicing. If you are someone who desires all of it to happen at once, then get yourself ready for some serious whiplash. In order to ease your way in to the fifth dimension, all that is required of you is that you focus. As you focus on your heart center and you access the fifth-dimensional frequency that exists within you, you can hold that frequency right here, right now.
Nothing in your external environment needs to change. And when you access the fifth-dimensional frequency that is within you, you'll notice that the world outside of you does not need to change in order to give you a fifth-dimensional perspective of it. You can and do access this energy. The longer you hold it, the more comfortable you become with it. And the more comfortable you become with it, the easier it is for you to find it.
We encourage you to access that energy, by knowing that it is within and by knowing that you already possess the ability to do so whether you know it consciously or not. And then play in your world from that fifth-dimensional frequency, and see how much fun you can have.
See how much more you can be. And as you do this you will begin to notice the changes in your world. You will begin to notice things you had not previously, and you will see that the shift is well underway.
We are The Founders. We are the keepers of the flame."