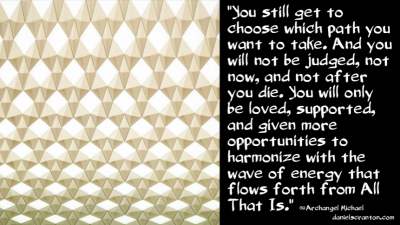 "Welcome. We are here to serve and assist you.
All That Is requires nothing of you. All That Is asks nothing of you. All That Is will continue to flow no matter what you do and no matter what you do not do. So you never have to worry about falling short, or about not fulfilling your life's purpose.
The expansion of All That Is cannot be thwarted, and it is not up to you to make anything happen. Anything that you want to do is your choice. Now, when you make a choice that is supportive of your becoming more of who you are, you will feel more support from All That Is.
That does not mean that you are being approved of in that moment and being disapproved of in other moments. It just means that you are riding the wave of the frequency that is in closer harmony with the energy of All That Is.
And so you can recognize those times when you are more in harmony and those times when you are offering resistance, but you still get to choose which path you want to take. And you will not be judged, not now, and not after you die. You will only be loved, supported, and given more opportunities to harmonize with the wave of energy that flows forth from All That Is.
And at times you may also receive a nudge from those like us, because we see what you really want and we guide you towards it. But we are also interested in letting you live your lives according to your own free will.
We are Michael. We are infinite. We are Love."