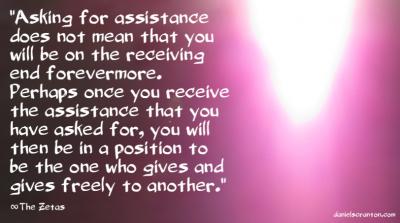 "By asking for assistance, you are not claiming to be weak or to be unable to do for yourself. Because when you ask for assistance, you give another the opportunity to be of service.
And asking for assistance does not mean that you will be on the receiving end forevermore. Perhaps once you receive the assistance that you have asked for, you will then be in a position to be the one who gives and gives freely to another in need of assistance.
We understand the desire to do it all yourselves, for we had a similar desire. We wanted to fix the problem that we had created for ourselves, and we wanted to do it all by ourselves.
But when the opportunity arose to receive assistance from the human race, we took it. And the result has been a beautiful flowering of our species, true synergy, and a wonderful blending of energies. We can see now why we created the need for your assistance, because without it, there would be less diversity in this galaxy and in this universe.
We are the beneficiaries, and so are several hybrid races. And sometimes we recognize that it was because we were able to set our pride aside and seek the assistance of others that so much more beauty and love has blossomed. We thank you, and we look to give now in whatever ways that we can.
We are the Zetas, and we are your brothers and sisters."