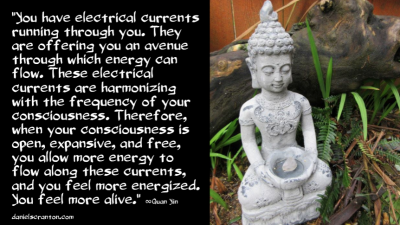 "It is I, Quan Yin.
You have electrical currents running through you. They are offering you an avenue through which energy can flow. These electrical currents are harmonizing with the frequency of your consciousness. Therefore, when your consciousness is open, expansive, and free, you allow more energy to flow along these currents, and you feel more energized. You feel more alive.
The amount of energy that you have access to is unlimited. The degree to which your consciousness can expand is also unlimited. Your reasons for no allowing this to occur are very limited. They are systems, and systems are finite. Imagine, for a moment, what it is like to step into a realm of infinite possibilities.
And now, recognize that the infinite possibilities exist within you. They are not out there, somewhere. They are a part of who you are. You have the ability to strengthen the currents through which the energy flows. You do this by acknowledging them, by acknowledging your power, and by simply allowing your consciousness to do what it naturally does.
Your consciousness expands, and it expands to include more, more of who you are, more possibilities, and more Love. Feel the power of Love flowing through you. It is Divine. It is who and what you are, and it has an unlimited number of paths to choose.
I am Quan Yin, and I hold you in my heart."
Show Your Gratitude – Make a Donation