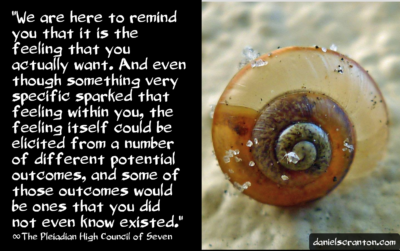 "We are the Pleiadian High Council of Seven, and we are pleased to offer you our words of wisdom.
Setting your sights on a particular outcome can put you in quite the little box. That is a metaphor, of course, but it is certainly appropriate. Because when you are in your little box, you cannot see. You are closed off, energetically and vibrationally, to any other outcome than the one that you have determined is the ultimate or best outcome for you or for someone else.
You give yourselves a glimpse of what it is that you desire so that you can spark an interest in yourselves for something else, something other than what you are experiencing in the present. It is very appropriate for you to have desires, and those desires are often born from specific experiences that you want to have, or that you see someone else having. That does not mean, however, that you would find the same experience to be the best possible outcome for you.
So what you really want to do is to allow something that you see or hear about to get your juices flowing. But then it is much more appropriate for you to focus on the feeling, rather than on the particular desire itself. Focus on the feeling that it sparked within you when you saw it or heard about it. Give all of your attention to the feeling, in fact, and ride the wave of that energy.
But do not get so focused on a particular outcome that you then begin to think about how you are going to get from point A to point B, because those steps often do not contain the same feeling. And because you can only see a certain number of possibilities for you to get from point A to point B, you often then get discouraged. You often then think you cannot have that which you desire.
So we are here to remind you that it is the feeling that you actually want. And even though something very specific sparked that feeling within you, the feeling itself could be elicited from a number of different potential outcomes, and some of those outcomes would be ones that you did not even know existed.
When you let the feeling guide you, when you let it inspire you, that is when you find yourself suddenly surrounded by circumstances and events that are far more to your liking than the specific desire that was the catalyst for you in the first place. Now that may not seem like deliberate creation to you, but from our perspective, creating a state of being for yourself is as deliberate as it gets.
We are the Pleiadian High Council of Seven, and we are very fond of all of you. That is all."
Get Some Clarity – Book a Private Session
Show Your Gratitude – Make a Donation