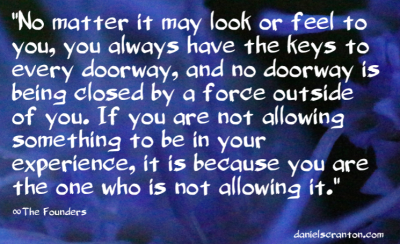 "Blessings.
Once you have opened a doorway, that doorway is forever open. But once you have closed a doorway, you can always reopen it. So when you are creating something for the first time, you may find that you move away from it eventually. And perhaps you do not complete it, not to your satisfaction anyway. You do not have to worry, because you can always go back to it. You can always get back in the flow.
If you are creating a relationship with another, and you have established the connection between the two of you, you may find that you move away from that person from time to time. But you can always go back. You can always come back together.
Now when you are examining your life and looking at all of your various options, know that there is always a reopening available to you of everything that you have ever done and every aspect of self that you have ever been. Now when it comes to opening a doorway for the first time, you must recognize that even if you have never experienced what you are wanting to play with in this lifetime, you certainly will have in some other.
So no matter it may look or feel to you, you always have the keys to every doorway, and no doorway is being closed by a force outside of you. If you are not allowing something to be in your experience, it is because you are the one who is not allowing it. Now it may be that you are conscious of your not allowing, or it may be that you are unconscious of it. But either way, you can take responsibility for anything that is in your life and everything that is not.
And you can know that sometimes the only reason a doorway is closed is because it serves you, and on some level of your consciousness, you know this. And you can also rest assured that all doorways will be opened by you when the timing is right and not a moment later or sooner.
We are The Founders. We are the keepers of the flame."