Description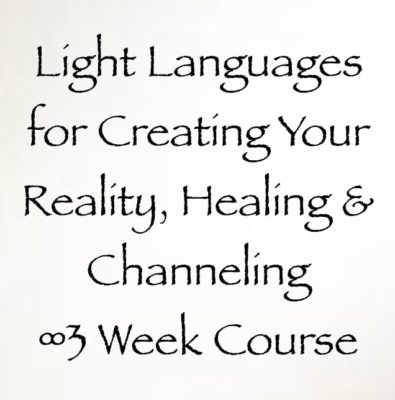 This is a 3-Week Online Course Where Daniel Teaches You How to Speak Light Languages & How to Apply them to Creating Your Reality, Healing & Channeling
What is This Light Language Course All About?
Starting Wednesday, June 16th, and for the following two Wednesdays (June 23rd & 30th) at 5:00 pm Pacific/8:00 pm Eastern…In this three week course, I'll teach you everything I know about light languages (light languages are known by some as "speaking in tongues"). You'll learn how to speak them, what they do for you and others, and how to use them for the purposes of healing, creating your reality, and even verbal channeling.
We will all speak our own unique light languages during the course, and you'll have the opportunity to speak for different ET races and non-physical collectives. But don't worry. You won't have to speak your light languages in front of anyone else in the course. We will also write our light languages out on paper and absorb the coded information they bring. Do you know what I love best about speaking light languages? There's no right or wrong way to speak them, and they don't have to make any sense to us. They are meant to activate us…not to be understood by our very limited minds. It's very liberating to speak a light language and just let the energy, codes, and vibration do what they naturally do to us. And it's fun!
How Will You Attend This 3-Week Course?
After you register for the course here on my website, you will receive an email with a phone number and access code for attending by phone and three links for attending by computer. If you attend by phone, you can raise your hand and ask questions, and if you attend via computer, you will be able to type questions and comments in as we proceed through each of the three 1-hour classes. Anyone in the world can attend this course!
What If You Cannot Attend One or More of the Classes Live?
If you cannot attend because you're in Europe or some other part of the world that is sleeping at these times, no worries. You can get all the info through the recordings and replay pages I'll send out after each hour-long class, listening when you have the time and energy. You can also ask questions via email, and they'll get answered during the next class session. Join me!
Week 1: June 16th at 5:00 pm Pacific/8:00 pm Eastern
Week 2: June 23rd at 5:00 pm Pacific/8:00 pm Eastern
Week 3: June 30th at 5:00 pm Pacific/8:00 pm Eastern
Testimonial from happy attendees of previous Light Languages Courses: "Thank you so much! I loved these Light Language classes. I really felt drawn to take the LL workshop, and wow, it was so freeing. I started channeling light languages easily and freely, without the burdens of my personal judgements …it just flowed so much more easily, and I am confident it was the real deal 🙂 Thanks again, and I feel the LL course helped to free up my verbal channeling confidence helped loosen and unblock my personal fears and judgements about the channeling process." -Helene, British Columbia
"I just wanted to say thank you for all the exercises and sharing. I am very happy to have registered. Class number 3 was my favorite. The last exercise with an E.T was a bit emotional! It surprised me! A blue being came, she, I say her because her energy is more feminine. She took my hands and pressed her forehead to mine … I had seen her before in a lucid dream but then to feel her closer brought tears to my eyes. Anyway … I just wanted to say thank you!" -Stephanie C.