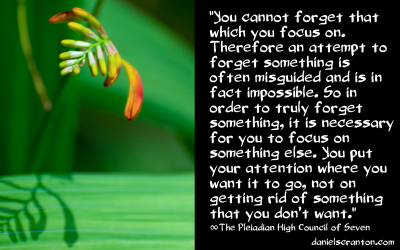 "We are the Pleiadian High Council of Seven, and we are pleased to offer you our words of wisdom.
There is no forgetting something that you have your attention on. You cannot forget that which you focus on. Therefore an attempt to forget something is often misguided and is in fact impossible. So in order to truly forget something, it is necessary for you to focus on something else. You put your attention where you want it to go, not on getting rid of something that you don't want.
So focus on what you want to remember. Focus on what you want to create, and focus on what is beautiful and wonderful in your current experience. But rather than trying to forget something that is unwanted, we recommend that you accept it. Just accept the situation exactly as it is, and then turn your attention somewhere else.
Turn your attention to something that pleases you, that excites you, that breathes life into you. Often the things you are trying to forget are the very things that have you clenching up and not letting energy flow. So they are not very useful. They are not very productive things to focus upon.
You don't really have to resolve anything at this point. Everything that has ever needed to be resolved has been resolved. Now that you are stepping in to your roles as conscious creator beings, all that is required of you is that you put your attention where you want it to go. Put your attention on that which is in harmony with the vibration that you want to hold. And by now you have lived enough life in this lifetime, and you have lived enough lifetimes to know exactly what it is that you want to vibrate with.
You understand what a high vibration is and what a low vibration is, and you have enough awareness and discernment to select from the vast array of vibrations that are available to you. So something that you want to forget simply falls into the category of something you don't want to vibrate with anymore.
So as you allow it to be what it is, and you allow it to inspire you to want to vibrate with something else, then it has served you. And then it doesn't need to be forgotten, because you can have appreciation for it. You can appreciate the people, the circumstances, everything that was involved.
You are wondrous beings, and you are just starting to tap in to your creative potential. One of the greatest powers that you have yet to discover is the power you all have to focus. Focus clearly with intention, and everything else will take care of itself.
We are the Pleiadian High Council of Seven, and we are very fond of all of you. That is all."
Get Some Clarity – Book a Private Session
Show Your Gratitude – Make a Donation