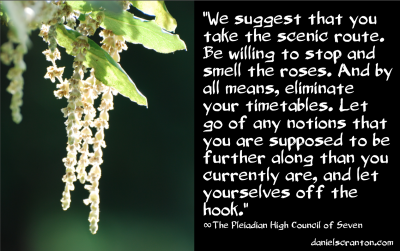 "We are the Pleiadian High Council of Seven, and we are pleased to offer you our words of wisdom.
By giving yourselves a break from all of the processing that you have been doing, you are not quitting or giving up on your ascension. You are simply acknowledging that you have taken on quite a bit and that it would behoove you to stretch some of this processing out.
There is a tendency among all of you to try and get things done as quickly as possible so that you can move on. You want to get to the next thing because you assume the next thing is better than the thing you are currently experiencing. You are always going to be works in progress, and there is no finish line.
So we suggest that you take the scenic route. Be willing to stop and smell the roses. And by all means, eliminate your timetables. Let go of any notions that you are supposed to be further along than you currently are, and let yourselves off the hook.
Let these energies do what they do, but at the same time, put up the stop sign every once in a while, cry uncle, and go take a break from it all. Now we are not suggesting that you numb yourselves from the process, but there are healthy ways to escape.
There are the so-called distractions that you have, and they are not a sign of laziness on your part. In fact, it is an act of allowing when you let go of the need to get more done, to process more energy, to assimilate more downloads, and just give yourselves a rest from it all.
Take solace in the knowing that no one else is keeping score of your progress. None of us in the higher realms are looking at our non-physical watches and thinking that you should be further along or that you are slacking off. These are ideas that you have inherited from those who want you to produce more, to be more productive.
But as you know, you get a lot done in your sleep. And so there is certainly nothing wrong with taking a nap or just lying back in a comfortable chair and letting go of all of the cares of the world. Sometimes that is when you are at you most productive anyway.
We are the Pleiadian High Council of Seven, and we are very fond of all of you. That is all."
Get Some Clarity – Book a Private Session
Show Your Gratitude – Make a Donation