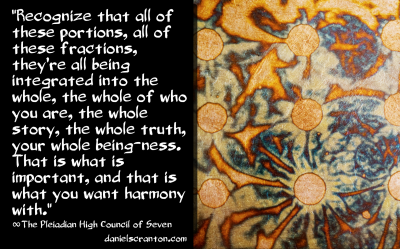 "We are the Pleiadian High Council of Seven, and we are pleased to offer you our words of wisdom.
How you extend yourself out into the world has everything to do with what you are feeling, what you are thinking, and how you are vibrating. When you seek to express yourself as an individual, you are expressing a portion of who and what you really are, but that still means something. That still has validity and weight to it.
When you are seeking validation from someone outside of you, you must recognize that the person out there is only being a fraction of him or herself as well, and simply may not resonate with what you are offering. So you put a portion, or a fraction of yourself out into the world, and someone else's fraction or portion is not vibrating in harmony with yours.
And so, you might have a disagreement. You might not like one another. There might be criticisms and judgments. But if you could step back from any interaction, and from any offering that you have put forth into the world, and recognize that it is just a part of who you are, you would not be so attached to it, and you would not be so attached to how someone else reacts or responds to it.
It's not your job to offer the right fraction, or portion, or vibration of who you are so that everyone else who ever comes in contact with you or it will find harmony. Now all of that being said, everything that you have ever done, everything that you have ever been, everything that you have ever offered is all valid, and it need not be judged or criticized by you or anyone else.
So while you don't need to identify with anything as the whole you, or the real you, it certainly does serve you to accept all aspects of you, to forgive yourself for any indiscretions, and to see all portions of you as sacred and Divine. And as you see others making their offerings, putting their vibrations out there, you can do the same. You don't have to define anyone else by anything he or she has ever said or done or vibrated.
Recognize that all of these portions, all of these fractions, they're all being integrated into the whole, the whole of who you are, the whole story, the whole truth, your whole being-ness. That is what is important, and that is what you want harmony with.
We are the Pleiadian High Council of Seven, and we are very fond of all of you. That is all."
Get Some Clarity – Book a Private Session
Show Your Gratitude – Make a Donation