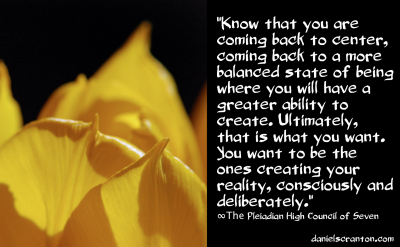 "We are the Pleiadian High Council of Seven, and we are pleased to offer you our words of wisdom.
We invite all of you to give yourselves a pat on the back, because what you have been experiencing in recent weeks has been a tremendous amount of energy. That energy has the potential to do all sorts of things. And so some of you have been experiencing tiredness, and others of you have been experiencing symptoms in your physical bodies that have no real origin in the physical.
Some of you have been discovering new abilities or have had long stretches of happiness. These energies have stimulated within you a frequency upgrade, and a frequency upgrade can be a bit unsettling. The reason for this is that anything that is of a lower frequency must be experienced on its way out.
So none of you are taking a step backwards, no matter what is happening in your lives. None of you is regressing. You are all making progress, and you are all doing it in unique ways because of what you carry with you, energetically. So just allow yourselves to relax into the experiences that you are having and know that they are temporary.
Know that you are coming back to center, coming back to a more balanced state of being where you will have a greater ability to create. Ultimately, that is what you want. You want to be the ones creating your reality, consciously and deliberately. And so the process of a frequency upgrade can give you the illusion that you are not in control. It can give you the illusion that something outside of you is pulling the strings.
But remember that it is all you. You are the one creating the experience for yourself in order to allow for a new experience to then be created. So your expansion is ongoing and your participation in that expansion is also expanding. From this point forward, we want you to be deliberate about how you choose to receive your upgrades. We invite you to make it your intention for these upgrades to occur easily and effortlessly.
And we also want you to understand that the process is ongoing, but you are taking it all in and making the process easier with every step forward that you take. This is your evolution. It is your journey. And with a little bit of intention and relaxation on your part, you can have a much easier time of it.
We are the Pleiadian High Council of Seven, and we are very fond of all of you. That is all."
Show Your Gratitude – Make a Donation
Get Some Clarity – Book a Private Session