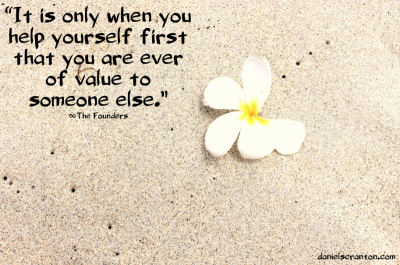 "We are pleased and excited to be a part of your journey. We are helpers, but we do not interfere. And it serves you well to take a similar approach with one another. As soon as you detect within you a desire to protect another from an experience, you can know that in that moment you are in the earliest stages of interference.
The truth is you cannot protect each other from having experiences that, while unpleasant, ultimately serve you very well. So you might as well give it up. Now, this can have the appearance of being harsh or uncaring. But in the grandest scheme of things, you are being most benevolent when you allow another to have whatever experience they are about to have.
Our recommendation for what to do when that desire swells up within you to prevent another from having an experience is to recognize that there is something within you that requires some attention. So whenever you are attempting to prevent another from having an experience, you are really attempting to spare yourself from something. And whatever it is you are hoping to protect the other from is something you have a judgment about.
So you can use these moments as opportunities to uncover the judgment and to release it. You can also look within yourself for the wound that you are being made aware of, and you can send yourself some love and compassion.
The desire to protect another from an experience will often give you a sense of purpose. You want to be the knight in shining armor. You want to save the other or others from having a particular experience. And when you feel pride as a result of protecting another, you run the risk of doing it over and over again and avoiding what is really happening.
What is really happening is that you are aware of something within you that requires your attention. And it is only when you help yourself first that you are ever of value to someone else.
We are The Founders. We are the keepers of the flame."