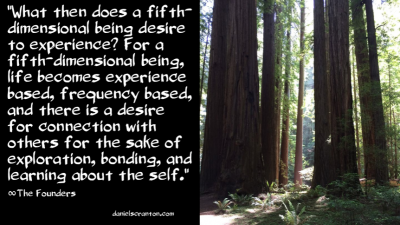 "Blessings.
All that is necessary in order for you to experience yourselves as fifth-dimensional beings is a letting go of attachment to that which you have always wanted to experience as a third-dimensional being. In our previous transmission, we had mentioned that you had passed over the threshold, but we were not clear about how it would still be possible for you to experience yourselves as third-dimensional beings.
So let us be very clear this time around. As fifth-dimensional beings, you have the ability to create whatever experience you want to create, including the experiences that are more third dimensional in nature. So when we say that you only need to let go, what we mean is that if you want to start living as a fifth-dimensional being, the choice is yours.
But many are still focusing on the third-dimensional way of living in the world. So many are still clinging to the idea of having more, being better than someone else, elevating yourself to a position of power and authority over others. These are the types of desires that keep one in a third-dimensional framework.
So what then does a fifth-dimensional being desire to experience? For a fifth-dimensional being, life becomes experience based, frequency based, and there is a desire for connection with others for the sake of exploration, bonding, and learning about the self. When these are your primary desires, you begin to take on more of a fifth-dimensional frequency.
And for those of you who are wondering about how it is you will survive, how it is you will make ends meet, if you give up on the third-dimensional paradigm, we simply invite you to let go of your struggle to make it. Let go of the struggle, and seek to connect with another human being. Seek to know yourself more fully, and see what miracles unfold in front of your very eyes.
We are The Founders. We are the keepers of the flame."