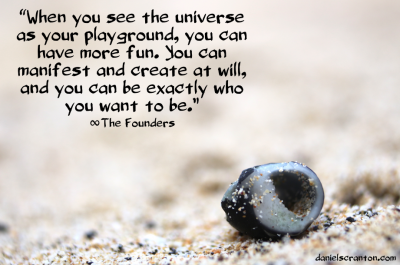 "From our perspective, the way that you get all that you have ever desired is not by focusing on that which you want. It is by living your life the way that you want now. As long as you are putting anything that you want out there somewhere, off in the distance, and telling yourselves that there is something you need to do in order to get that thing or be in that relationship, the further you place it from you.
And the more that you see that everything that you desire is contained within you, the easier it then becomes to see it in the physical, in the flesh, in your bank account. So you see, as long as you are looking for something out there to give you the sensation that you want to feel inside of you, you will continue to create a reality where that which you desire is out there.
So you can manifest in the physical, get the feeling, and then get bored or lose what you have manifested, and then lose the feeling, and then set out to repeat that cycle over and over again, until one day you recognize that the feeling that came up within you when you manifested what you wanted is still there. It is inside of you. It is a reality that already exists, and you do not need to play any games or make anything happen in order to experience that reality.
You just have to see yourselves as capable of holding all frequencies within you and then intending to access the frequency of that which you desire. And then take a moment or two that it takes to tune yourselves to that frequency. And then voila! You are that which you desire. You have become it.
What this gives you is a new interpretation of reality. It gives you the ability to see that you are whole and complete as you are and that the universe is your playground. And when you see the universe as your playground, you can have more fun. You can manifest and create at will, and you can be exactly who you want to be.
And that is the real prize. That is the truest manifestation that you could ever experience. So why not start now? Why not start with this moment? Why not hand yourselves the keys to the kingdom? Why not now? There is no need to wait. You are everything, right here and right now.
We are The Founders. We are the keepers of the flame."