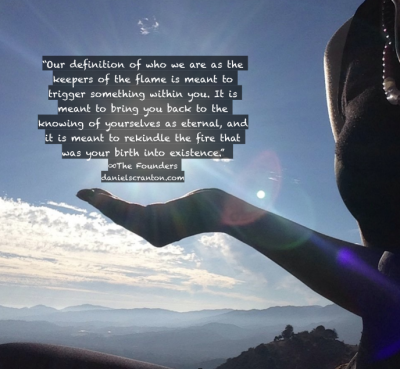 "We are The Founders. We are the keepers of the flame. We are your ancestors in a very real sense, and you are our progeny. So our journeys are intertwined for all of eternity. We cannot be separated from you, nor you from us.
But there is a way to limit the amount of influence that you have over us and that we have over you. You can deny our existence. You can pretend that you are alone and that you have no help, no support. You will not be served by that denial, but it is a choice.
Definition often contains within it a particular frequency. Our definition of who we are as the keepers of the flame is meant to trigger something within you. It is meant to bring you back to the knowing of yourselves as eternal, and it is meant to rekindle the fire that was your birth into existence.
We were there at your birth, and we are quite proud of you. Given this connection that we have, we are eager to reconnect with all of you consciously. We want all of you to feel us, to know us as that part of you that is infinite, that is eternal, and that is powerful.
We are The Founders. We are the keepers of the flame."