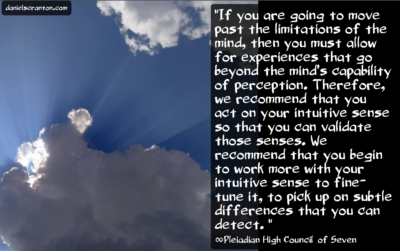 "We are the Pleiadian High Council of Seven, and we are pleased to offer you our words of wisdom.
Second-guessing yourself will always lead to more and more guessing. Listening to the guidance that you receive, and trusting it, will only and always lead you to more receiving and more trusting. So the second-guessing is coming from your mind, and you mind is fighting with your intuitive sense.
Your mind is attempting to assert dominance by second-guessing what you are getting from beyond what you would consider to be your physical mind's domain. Therefore, sometimes it is necessary to just ignore what is coming to you from your mind. Sometimes it is necessary to let go of all that your mind has to offer and go back to your intuitive sense, and go back to what you were getting in the first place so that you can recognize the validity of it.
Your senses will never lie to you, because they are the means by which you can have an experience, and experience is what your journey is all about. So you can trust how you are experiencing something. That is real. It does not matter whether that experience makes any sense whatsoever to your logical mind.
If you are going to move past the limitations of the mind, then you must allow for experiences that go beyond the mind's capability of perception. Therefore, we recommend that you act on your intuitive sense so that you can validate those senses. We recommend that you begin to work more with your intuitive sense to fine-tune it, to pick up on subtle differences that you can detect.
The mind is also attempting to keep you safe, to keep you in a familiar realm. But there is nothing familiar about where you are going, and you are going to need to rely more on your sense and on your discernment as you move forward, beyond that which you have experienced previously.
We are the Pleiadian High Council of Seven, and we are very fond of all of you. That is all."
Photo by: Karin Miller
Get Some Clarity – Book a Private Session
Spread Your Abundance Around – Make a Donation