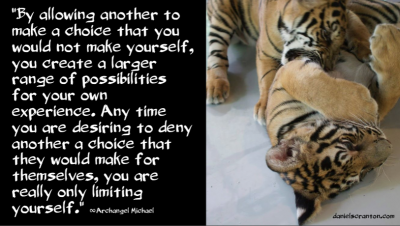 "Welcome. We are here to serve and assist you.
By allowing another to make a choice that you would not make yourself, you create a larger range of possibilities for your own experience. Any time you are desiring to deny another a choice that they would make for themselves, you are really only limiting yourself. No matter what you do, think, or say, and no matter what laws your government enacts, you cannot stop someone from doing what they will do.
You cannot really limit the choices or the experiences of others, even if every other person on the planet agreed with you. So in order to free yourselves from the bondage of your not allowing another to make a particular choice, recognize the instances where you are doing this. Be willing to accept that whatever choice you deny another, you have made that choice yourself, somewhere, somewhen in existence.
And in your denial and judgment of that choice, you are only condemning yourself. So when you make the choice to accept and embrace whatever it is that someone else wants to do, you free an aspect of yourselves, you welcome that aspect home, and you broaden your own horizons.
The vibration of limitation can only result in the experience of limitation for the one offering it. You are not powerful enough to limit the choices of others. So you might as well give that up, and you might as well free yourselves to live in a sea of infinite possibilities.
We are Michael. We are infinite. We are Love."