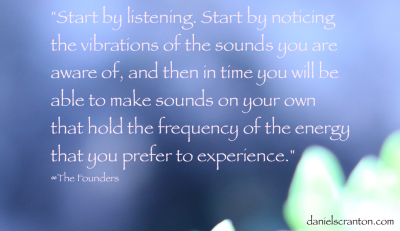 "Blessings.
Just by listening to the sounds that are audible to you at any time, you are opening yourselves up to a firmer grasp on what vibration, frequency, and energy are all about. If you want to train yourselves to be able to access or modify a frequency within you, practice through the art of listening. Feel the shift in your energy as you notice the quality or frequency of the vibration of any sound that you are capable of tuning in to.
Feel the resonance or the discord. Listen for nuance, and feel where in your bodies the tones and sounds are hitting you and affecting you. Become masters of listening and tuning yourselves to the energy that you prefer to experience. There are many sounds that are audible to you that you more or less ignore throughout your day. Every once in a while a sound will really get your attention, but for the most part they are background noise and you do not give them much of your attention.
But sound is a powerful tool and one that you can utilize in creating the reality that you prefer. Start by listening. Start by noticing the vibrations of the sounds you are aware of, and then in time you will be able to make sounds on your own that hold the frequency of the energy that you prefer to experience. This is something that is very simple and fun and an easy way for all of you to grasp how you will modulate and temper your own frequency.
Feel your way through this process, and you will be rewarded. You will be rewarded because you will have taken command of the vibration you hold, and nothing is more powerful than that.
We are The Founders. We are the keepers of the flame."