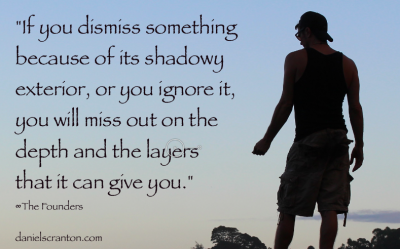 "Blessings.
Shadows are a part of your everyday landscape. They add to that which you see, giving it perspective. The only way to remove a shadow is to also remove the light.
But many of you would prefer that there only be light. And you see, if that were the case, you would lose your perspective. You would have nothing to give you that sense of balance. Now, within the shadow there is always something to be gained. There is always that which is beneath the surface of the shadow. That is where all the goodies lie.
So if you dismiss something because of its shadowy exterior, or you ignore it, you will miss out on the depth and the layers that it can give you. We are speaking in metaphor now, but we will not tell you what the shadow represents because it is different for each of you. One person's shadow is another person's light. It all depends upon perspective.
When you embrace your shadow, whatever it may be to you, you give yourself an opportunity to discover more of what makes you the experiencer of the shadow and the light. And as you become adept at shining your light and casting your shadow, you can create something new, something beautiful, something that has never been experienced before. And that is truly why you began this dance of shadows and light.
We are The Founders. We are the keepers of the flame."