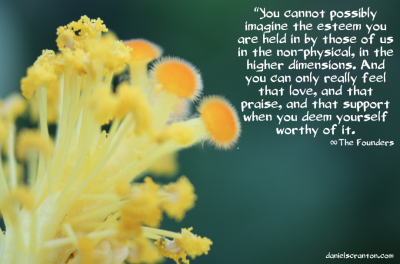 "In the event that you are seeking the attention of another, whether it be romantically, or because you are looking for a promotion, or just some acknowledgement or recognition, you are seeking approval that you can only give to yourself. Even if someone praises you, loves you, or promotes you, you still have the option of rejecting it.
You can still deflect that which you are being given because you ultimately feel like you do not deserve to receive that which the other is giving. So if you want to feel good about yourself, to feel loved and lovable, you must begin with how you talk to yourself and how you treat yourself.
If you push yourself beyond where you really want to go and work long and hard in order to get that praise, that acknowledgement, or that promotion, you are not being very kind, loving, and nurturing to yourself. And yet you are expecting someone else to step in and play that role for you.
And it will never be enough, even when you do receive it, because you will only feel as good as your last performance or accomplishment. You will continually seek that which you do not give yourselves.
And all this that you seek is being given to you twenty-four hours a day by a cadre of non-physical beings. You cannot possibly imagine the esteem you are held in by those of us in the non-physical, in the higher dimensions. And you can only really feel that love, and that praise, and that support when you deem yourself worthy of it.
So how do you get there? How do you receive from yourself that which you have been seeking from others? It is a moment-by-moment decision to either condemn or praise, to either love or find fault with.
And so the first step is to start to pay attention to that self-talk, to the way that you run yourself ragged or give yourself a day off. And you look for opportunities to love, praise, and acknowledge yourself for every little thing that you do. Every moment you are conscious, be kind and loving to yourselves. This is the only way to be who you really are.
We are The Founders. We are the keepers of the flame."